Expand to Medical Grade Monitor product line, Wincomm releases WMD series ranging from 23.8" to 15.6"
2018-09-17
Hsinchu, Taiwan – 17th Sep, 2018, Wincomm, a leading medical computer provider, announces new product line, the WMD series, a medical grade monitors, ranging from 15.6", 21.5" to 23.8". Featuring with high imaging quality, and design to fulfill healthcare professionals and medical applications, Wincomm WMD monitors are medical certified displays with user-friendly functionalities. Additionally, keeping the same design aesthetic as Wincomm WMP medical computers, both medical computers and monitors could leverage extending display mode to ensure visual integrity in most medical application environments.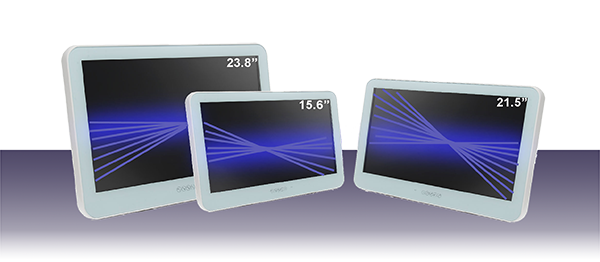 Consistently Clear and Precise Images
To extend WMP series advantage, the WMD monitor series are designed with FHD LCD panels that support with wide view angle, high contrast, and rich colors up to 16.7M to provide high color images with consistent quality. The added-on AG film as an option could optimize medical image clarity, visibility and productivity. In addition, supporting with optional DICOM part 14 by project, it could fulfill with color or monochrome medical image processing at good quality.
User Friendly Design Suit for Medical Users
For the mechanical design, it comes with hot key design, similarly to WMP series, and which is easy for healthcare professionals to use. Moreover, it provides multi display interface, such as DVI, DP, and HDMI for compatibility with legacy and extending equipment. With flexible configuration to support diverse applications, WMD series are ideal to suit for information display, data retrieval devices, and control panel to integrate with other clinical equipment and medical cart PC devices. Adding on reading light, it could satisfy healthcare professionals to read documents while the patience or surgical room dim the ambient light.
CE, FCC, VCCI Class B and IEC 60601-1-2 certification standards
The WMD series has met FCC, CE, VCCI Class B and IEC 60601-1-2 4th edition certification standards, which has stricter electromagnetic waves standards. Our users have a higher protection level in their health and safety from the electromagnetic waves while using our products.
More size options for diverse healthcare applications
Keeping the same design aesthetic as Wincomm WMP medical computers,
Wincomm WMD series encompasses versatile sizes: 23.8", 21.5" and 15.6". Moreover, we are ready for difference size customization supported by project, and all medical grade display series could extend WMP series design aesthetic to fulfill different project needs. Our customers have many options to choose from, depending on their operating system and location requirements.
Features
ü Size from 15.6'' to 23.8'' medical grade display
ü Anti-bacteria (MRSA) plastic housing
ü Spill and dust resistant design (front panel: IP65, IPx1 for whole system)
ü Built-in a pair of stereo speakers
ü Support multi-signal inputs: HDMI(cable optional), DP, Audio-in
ü Meet CE/VCCI/FCC Class B and IEC 60601-1-2 compliance
Special customer requirements can be fully supported with a long-term supply policy. The WMD series are now available for sale. If you have any product or customization requirements, please contact Wincomm sales (mail: sales_support@wincomm.com.tw). For more product information, please visit the Wincomm website at http://www.wincomm.com.tw/
About Wincomm
Wincomm is one of Taiwan's leading manufacturer of industrial computer and embedded computer products. Wincomm designs and develops all in one panel PC, large size all in one digital signage system, rugged box PC and embedded software products for a broad range of industries and applications. Wincomm aims to provide hardware and software integrated solutions for the most variant environments such as industrial automation/ human machine interface control, digital signage / infotainment Kiosk, and medical computing.