Wincomm launches WPC-766/766E Rugged Box PC with the Intel 6th generation Skylake CPU platform and passed Medical UL 60601-1 4th edition
2018-01-04
Hsinchu, Taiwan – 4th Jan, 2018, Wincomm launches WPC-766/766E Fanless Rugged Box PC with the Intel 6th generation Skylake Core i5-6500TE (passmark: 6202). The full medical grade grade box PC is optimized for maximum performance and supports high definition video output. Both products have passed the lastest Medical IEC-60601-1 4th edition certification, which means the units can withstand higher amounts of environmental electromagnetic waves, resulting in more robust products and a substantial increase in user safety.


PIC: WPC-766 and WPC-766E
Suitable for use with various applications in medical environments and industrial automation
The WPC-766E has a PCI-E x 16 slot that can be used for an image capture card, to provide captured images to help doctors with their diagnosis. The slot can also be customized for a 4KV Isolation card (USB 2.0x1, LANx1, COMx2). The 4KV Isolation card can withstand high-voltage interference to the equipment, such as from an ECG, defibrillator, or magnetic resonance imaging equipment, which needs to connect to the PC under high-voltage environments. The Isolation function can ensure that the signal is clear and stable, while preventing the interference between instruments. This can prevent damage to expensive medical devices and the Box PC, as well as improving the user safety.The WPC-766/766E is a slim and rugged fanless box PC, suitable for a variety of medical grade environments. It supports DDR4 Memory up to 32GB, and offers convenient expandability with an abundance of I/O ports, such as USB3.0 x4, LAN, and COM x6, and capable of multiple applications.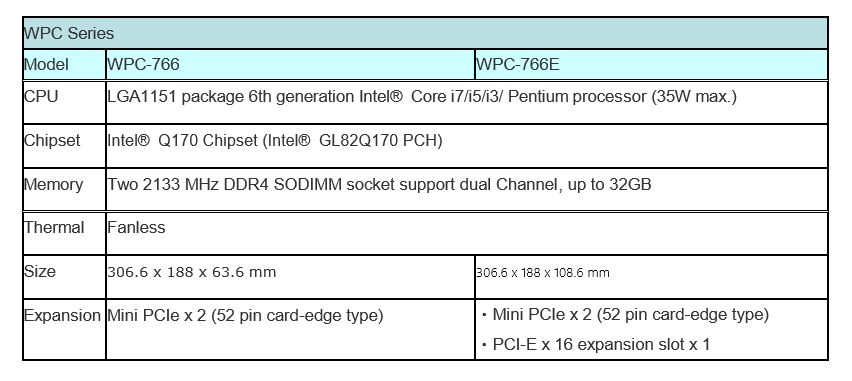 The WPC-766/766E are equipped with powerful CPU and high-speed computing ability to fully support the various applications used in a medical environment, especially medical imaging. WPC-766/766E are best designed to help the staff in operating rooms or hospital workstations to meet demands in the capturing, processing, and searching of medical images. Equipped with a fanless design, they are relatively quiet when processing large amounts of data, making them ideal for a surgery room or patient care room. WPC-766/766E supports Intel vPro technology to effectively enhance the information security and strengthen remote access connections. It allows the IT staff to remotely manage, diagnose, and maintain the system while maintaining strict information security measures.
Wincomm is one of Taiwan's leading manufacturer of industrial computer and embedded computer products. Wincomm designs and develops all in one panel PC, large size all in one digital signage system, rugged box PC and embedded software products for a broad range of industries and applications. Wincomm aims to provide hardware and software integrated solutions for the most variant environments such as industrial automation/ human machine interface control, digital signage / infotainment Kiosk, and medical computing.