Wincomm Releases Full IP66/67/69K Skylake CPU Platform Stainless Panel PC Series
2017-09-28
100% Waterproof Guarantee CPU Performance Upgrade
Wincomm introduces the newest WTP-9E66 Series of waterproof Fanless Stainless Panel PC, with the Intel 6th generation Skylake platform CPU Core i5-6200U (Passmark: 3984). There is a performance increase over the previous generation WTP series, an effective reduction in CPU power consumption, and significantly improved graphics capabilities.
In addition, the DDR4 memory speed is increased by 15% and able to support up to 32 GB. WTP-9E66 Series come in 15/19/22 inch sizing. The stainless steel housing with a fully enclosed shell assures 100% waterproofing. Whether it is for an IP66 rating level (high pressure water washing), or an IP69 rating level (high temperature steam environment), or an IP67 rating level (capable of being submerged under one meter of water for 30 minutes), Wincomm's waterproof technology can accommodate for all of them.
Pic: WTP-9E66 series 15/19/21.5 inch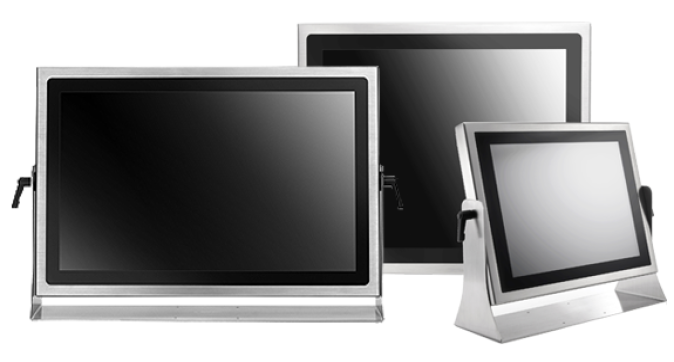 For CPU Performance
The Intel 6th processor platform, Skylake, is an upgrade in power efficiency and a reduction in heat when compared to previous processors. Systems equipped with the Skylake platform will have improved performance and increased stability. The Skylake CPU supports Intel Vpro technology, which effectively enhances information security and remote connection management.

For Food Processing
For food processing and harsh Industry 4.0 environment applications, the WTP-9E66 series, which is similar to the WTP-9C66 and WTP-9A66 series, includes such highlighted features as downward directed I / O ports, thus making it highly suitable for food processing environments due to a more factory friendly layout. The high strength zinc alloy M12 I / O metal connector and the adapter both have IP67 ratings and are rugged and waterproof, The SUS304 stainless steel housing ensures that when used in a food processing environment, it can withstand both high-pressure water washing and strong acidic or alkaline disinfecting. The full flat seamless and sealed back cover design eliminates gaps and also prevents bacteria growth. Wincomm also offers both resistive touch screens and capacitive touch screens, depending on the factory's cleaning procedure. The Wincomm exclusive design comes with a Touch Lock software interface so that the units do not need to be shut down during cleaning.

Expandability and Flexible Customization
WTP-9E66 series can be used for different applications. Wincomm can also customize the number of COM, USB3.0, and LAN ports and functions to suit users' requirements. For an outdoor sunlight application environment, the unit is equipped with a 1000 nits high brightness LCD. Sunlight readable optical anti-reflective bonding is also available to meet customer needs.
Pic: Customization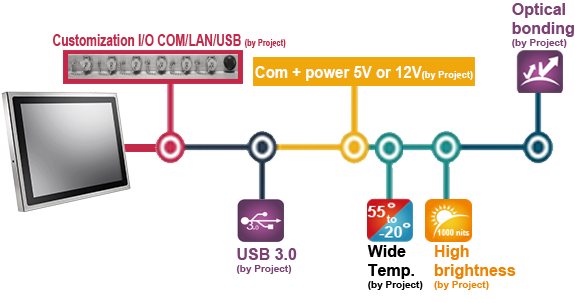 100% Waterproof guarantee
In quality assurance, for Wincomm's Full IP66/IP69K/IP67 stainless panel PC series, each individual machine has been through Wincomm's rigorous testing procedures to ensure that the WTP series models are waterproof and dustproof to the 100% certified IP66/69K/67 rating.


Pic: IP69K testing report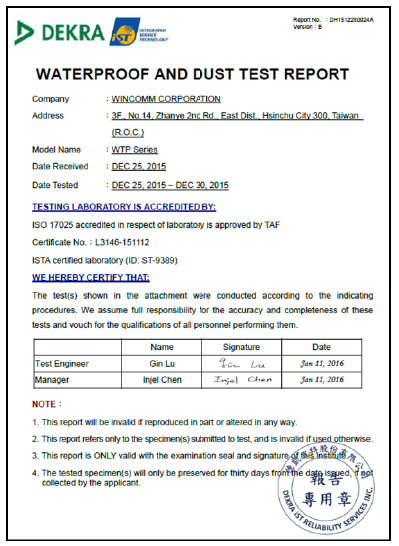 Passed EMC CLASS B
In product certifications, the WTP-9E66 series, same as with the WTP product, have passed FCC, CE (EMC), VCCI Class B certification standards. Our competitors only have Class A certification. Class B has stricter electromagnetic waves standards, which results in an upgrade from industrial usage to home usage. Our users have a higher protection level in their health and safety from the electromagnetic waves while using the WTP-9E66 series.

Pic: FCC/CE/VCCI class B

Table: Stainless Full IP Series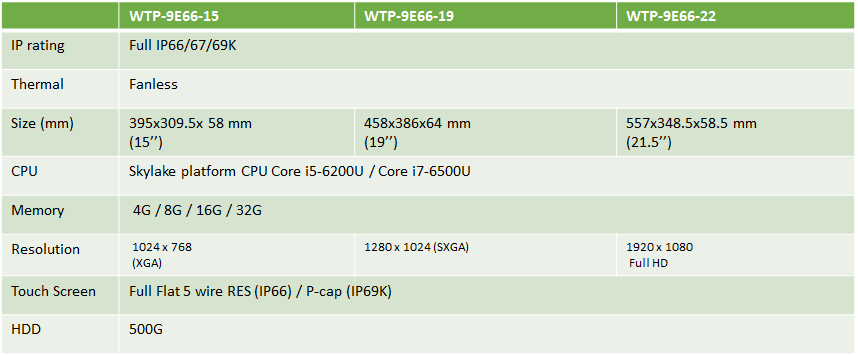 Everything, from the motherboard, BIOS, driver to the mechanical design was designed by Wincomm, so special customer requirements can be catered to and a steady supply provided over the long-term. The are now available for sale. If you have any product or customization requirements, please contact Wincomm sales (mail: sales_support@wincomm.com.tw). For more product information, please visit the Wincomm website at https://www.wincomm.com.tw/