Waterproof Panel PC First Choice ~ Wincomm introduces Rugged Full IP66/67/69K Stainless Touch Panel PC
2017-08-22
Fanless Full Flat Design M12 I/O Metal Connectors
As with the uprising trend of smart phone, tablet PC, and smart watches utilizing the IP67 waterproof spec., for what applications in the fanless Industrial Panel PC field would need an IP67 waterproof spec.? Wincomm points out that pier Kiosks and the outdoor automatic control systemfor ships will be the best applications for IP67.
When piers and ships encounter greater waves and storms, the PC may instantly become submerged in water. If the waterproof spec. is not at an IP67 rating, then the computer may become damaged, resulting in automatic system failure. Wincomm WTP-9E66/9C66/9A66 series and WTP-8B66-series both have the IP67 and IP66 / IP69K rating, making it suitable for ships, piers, food processing and pharmaceutical factories.

For other applications, when food processing plants are involved with meat or seafood, they often need high pressure water jets or high temperature steam to clean the equipment and surroundings. In these cases, a panel PC needs to have the full IP66/69K waterproof rating to avoid damage to the automated production systems. In addition, the M12 metal USB, LAN, COM I/O connectors and downward directed I/O connectors design help make the Panel PC highly suitable for food processing environments due to its more factory friendly layout.

For the processor, in order to meet the users different needs, Wincomm can accommodate a full range of readily available Intel sixth generation CPU Skylake, Broadwell, as well as Ivybridge, and Baytrail. In addition, for the mechanical design, a full flat touch design provides friendly user operation. The fully sealed stainless housing includes a breathable waterproof design, to prevent screen condensation or housing deformation due to the wide outdoor temperature fluctuations.
WTP series have passed FCC, CE (EMC), VCCI Class B certification standards which is better than those of most competitors. Class B has stricter electromagnetic waves standards, which results in an upgrade from industrial usage to home usage. Our users have a higher protection level in their health and safety from the electromagnetic waves while using the WTP series.
Pic: IP69K testing report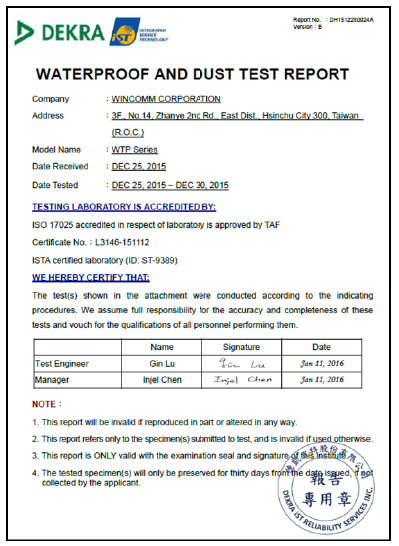 Pic: FCC/CE/VCCI class B


Table: WTP Series specifications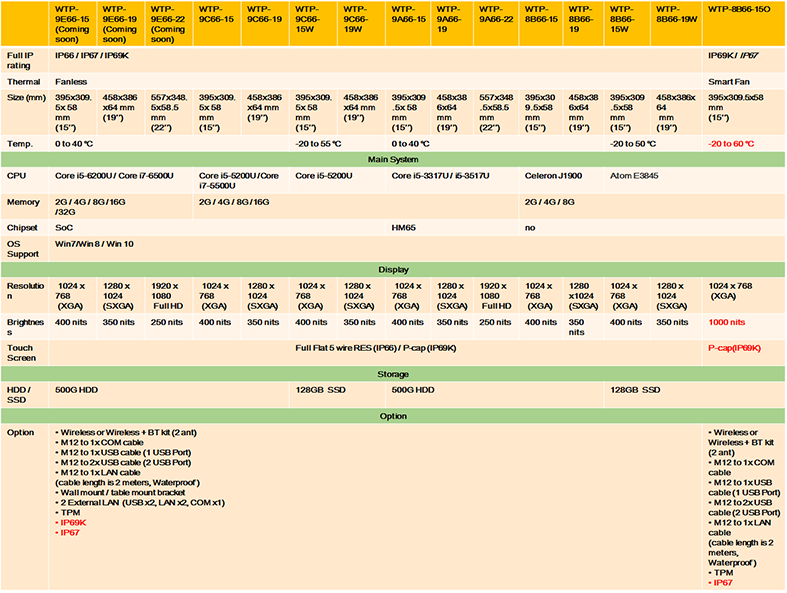 Everything, from the motherboard, BIOS, driver to the mechanical design was designed by Wincomm, so special customer requirements can be catered to and a steady supply provided over the long-term. The WTP series are now available for sale. If you have any product or customization requirements, please contact Wincomm sales (mail: sales_support@wincomm.com.tw). For more product information, please visit the Wincomm website at https://www.wincomm.com.tw/