Wincomm Releases 15 inch and 19 inch Full IP66/IP69K/IP67 stainless steel Panel PC WTP-9C66 Series and Wide Temp. WTP-9C66 W Series
2017-04-26
Wide Temp. -20 to 55℃ Fanless thermal design CE, FCC, VCCI Class B
Wincomm, a long time leader in the industrial panel PC field with a focus on unique thermal solutions, introduces the new series of Full IP66/69K/67 Fanless Stainless Panel PC ~ WTP-9C66-15/19 and WTP-9C66-15/19 W (Wide Temperature). Complete with a performance upgrade from the previous generation WTP-9A66 series, this panel PC is suitable for food processing and auto control systems with high pressure water column cleaning automation applications. The SUS304 stainless steel housing ensures that when used in a food processing environment, it can withstand both high-pressure water washing and strong acid / alkaline disinfecting. The full flat seamless and sealed back cover design eliminates gaps and also prevents bacteria growth. The Wincomm exclusive waterproof design comes with a 100% waterproof guarantee. The AC/DC power adapter is also certified with an IP67 waterproof rating.
The Wide Temperature series ~ WTP-9C66-15/19 W, is similar with the WTP-9C66 series in its mechanical design, but also suitable for both high-temperature environments such as glass, steel factories, etc, and low-temperature environments such as frozen food processing plants.
The WTP-9C66 series, as similar with the WTP-9A66 series, include such highlighted features as full IP66/IP69K/IP67, (waterproof and dustproof) M12 metal connectors, and stainless steel housing. Both models have same design concepts with a focus of being used in food factories and harsh environments, but the WTP-9C66 series is equipped with an upgraded Intel Core i5 -5200U (Passmark: 3489), for significantly improved performance.


Pic : CPU Performance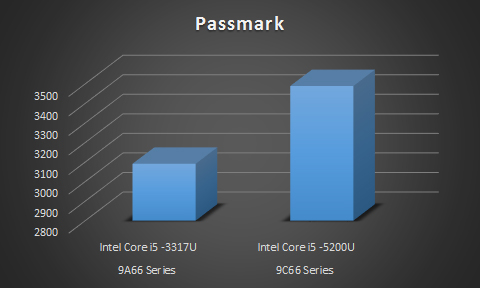 The wide temperature series are focused more on the operating temperature range. In order to operate in the wide temperature ranges of -20 to 55 ºC and remain stable 24/7/365, the WTP-9C66-15/19 W are equipped with a wide operating temperature range 128GB SSD drive andDDR3L 1333/1600 MHz memory. The peripheral key components of this system have been rigorously tested and selected for their wide temperature range designs and capabilities. Wincomm products have excellent heat dissipation capacity in high temperature environments due to its heat pipe design with a coefficient as high as 7000 W/mk. For low temperature application, Wincomm has designed a preheat circuit on the motherboard for low temperature environments. Users no longer have to worry about the failure of motherboard components caused by low temperatures.
For the mechanical design, WTP-9C66 series has downward directed I / O ports, making it highly suitable for food processing environments due to a more factory friendly layout. The external I/O connectors are made of high strength zinc alloy & nickel plated metal and the AC-DC power adapter has a IP67 waterproof rating, making the unit robust and sturdy in form during operation. The WTP is equipped with strategically placed ventilation holes to prevent screen condensation from wide outside temperature fluctuations.
In quality assurance, for Wincomm's Full IP66/IP69K/IP67 stainless panel PC series, each individual machine has been through Wincomm's rigorous testing procedures to ensure that the WTP series models are waterproof and dustproof to the certified IP66/69K/67 rating.
In product certifications, the WTP-9C66 series and WTP-9C66 W series, same as with the WTP product, have passed FCC, CE (EMC), VCCI Class B certification standards. Our competitors only have Class A certification. Class B has stricter electromagnetic waves standards, which results in an upgrade from industrial usage to home usage. Our users have a higher protection level in their health and safety from the electromagnetic waves while using the WTP-9C66 series and WTP-9C66 W series.


Table: Stainless Full IP66 Series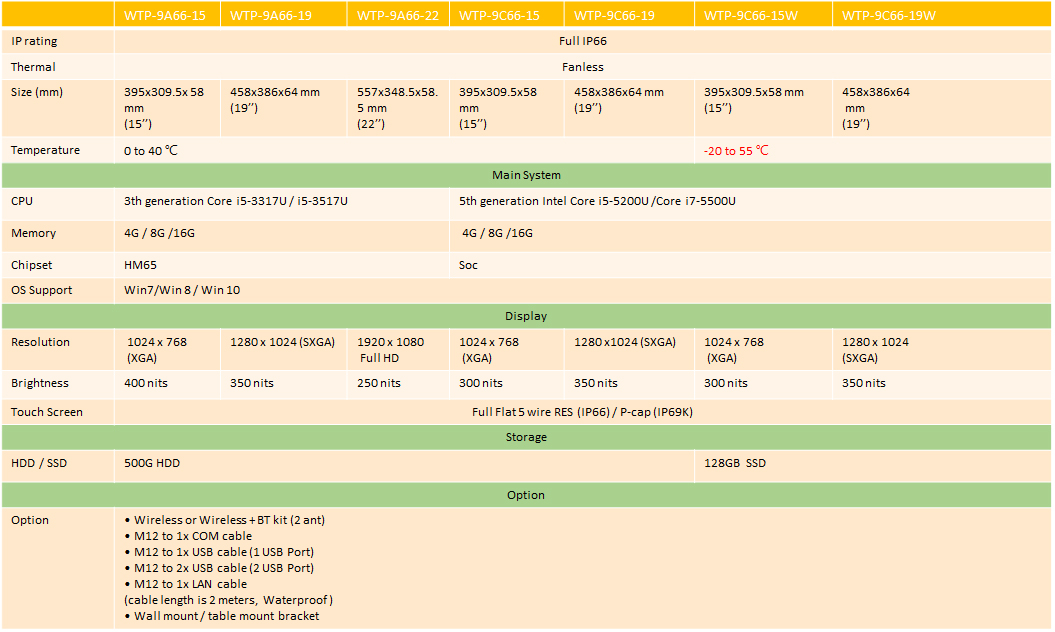 Everything, from the motherboard, BIOS, driver to the mechanical design was designed by Wincomm, so special customer requirements can be catered to and a steady supply provided over the long-term. The the WTP-9C66 series and WTP-9C66 W series are now available for sale. If you have any product or customization requirements, please contact Wincomm sales (mail: sales_support@wincomm.com.tw). For more product information, please visit the Wincomm website at http://www.wincomm.com.tw/