Fanless and Wide Temperature design. Wincomm announces WLP-7B20-10/15H Series suitable for automatic control
2016-03-09
Wide Temp. -20 to 65℃ Front IP66 High brightness CE, FCC, VCCI Class B
For wide temperature range environment applications, Wincomm introduces the fanless wide temperature Panel PC WLP-7B20-10/15H series, with an exclusive fanless thermal designsuitable for wide operating temperature range of -20 to 65℃automation control applications. WLP-7B20-10/15H Series are equipped with an Intel 4th gen. Atom Bay Trail E3845 CPU (Passmark CPU : 1403 ), a wide operating temperature range 128GB SSD drive and Memory Max. 8GB DDR3L-1333. Along with its high brightness 1000 nits LCD Panel and front IP66 waterproof, the WLP-7B20-10/15H Series is the best solution for automatic control systems.



In wide temperatures environments, there are typically two priorities: High temperature thermal design and low temperature preheat circuit. Wincomm products have excellent heat dissipation capacity in high temperature environments due to its heat pipe design with a coefficient as high as 7000 W/mk. For low temperature environments, the WLP-7B20-10/15H motherboard's preheating circuit ensures for a circuit warm-up and system start-up. Users do not have to worry about motherboard components failure caused by low temperatures. The peripheral components of this system, such as the LCD, touch, RAM, SSD are all rigorously selected for their wide temperature range designs and capabilities. WLP-7B20-10/15H are assured to run 24/7/365 in environments between -20 to 65℃.


PIC: High brightness 1000 nits LED Panel in the sunlight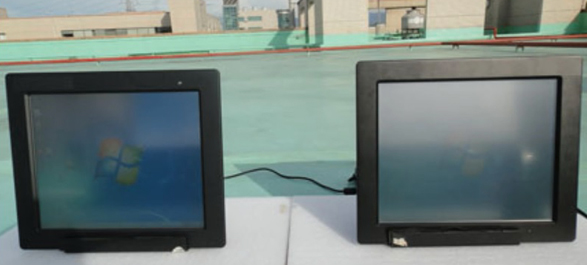 In addition to being applicable in a wide temperature range, the WLP-7B20-10/15H are equipped with a 1000 nits sunlight readable LCD panel for outdoor use. Even in direct sunlight, the screen remains clear and readable. The key factor to improving outdoor readability is increasing display brightness to contrast the sunlight. The LED high brightness backlight module used by the WLP-7B20-10/15H allows the display to be brighter, more efficient, and energy saving. For outdoor applications, Wincomm will introduce the WLP-7B20-15O and WTP-8B66-15O with Full IP66 rating (WTP-8B66-15O), sunlight readable optical bonding, AR coating, and GG type P-cap touch which will be more suitable for outdoor automation control.
In product certifications, the WLP-7B20-10/15H have passed FCC, CE (EMC), VCCI Class B certification standards. While our competitors only have Class A certification, Class B has stricter electromagnetic waves standards, which results in an upgrade from industrial usage to home usage. Our users have a higher protection level in their health and safety from the electromagnetic waves while using the WLP-7B20-10/15H series.
WLP H Series table:

Everything, from the motherboard, BIOS, driver to the mechanical design was designed by Wincomm, so special customer requirements can be catered to and a steady supply provided over the long-term. The WLP-7B20-10/15H series are now available for sale. If you have any product or customization requirements, please contact Wincomm sales (mail: sales_support@wincomm.com.tw). For more product information, please visit the Wincomm website at https://www.wincomm.com.tw/