WLP-7A20 Leads the Industry with Latest 3rd Gen Intel Core i CPU and Fanless Design
2013-02-05
IP66-rated 15"/17"/19" Models Suitable for all Factories and Industrial Environments
Wincomm, the industry leader in fanless designs, has released its new WLP-7A20 Panel PC range featuring the latest 3rd generation Intel Core i CPU. The performance boost also comes with Wincomm's proprietary cooling that solves heat problems associated with high performance. Most 3rd generation Core i CPU products on the market are fan cooled designs. The fanless design from Wincomm is an industry first. Wincomm leveraged its expertise in thermal design to add heatsinks to the motherboard that effectively control the motherboard temperature. As a result, the fanless WLP-7A20 is able to keep its operating temperature within 0 ~ 50℃.
Picture: WLP-7A20 series is available in three sizes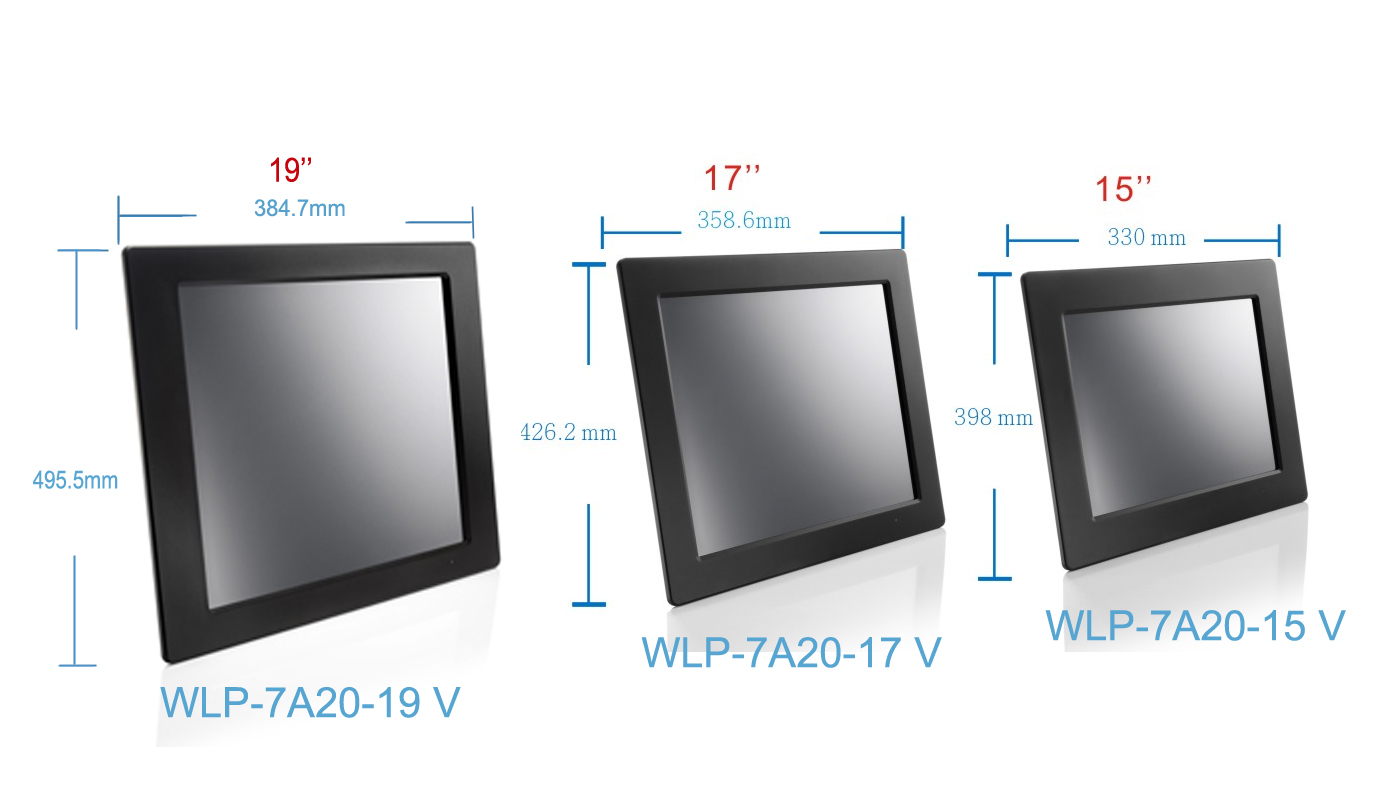 Competitor products that use Intel's 3rd generation Core i CPU are currently all fan-cooled designs that do not solve the heat problem from performance increase. Other vendors of fanless designs have not yet adopted the Intel Core i CPU. These make the WLP-7A20 the most innovated design for industrial computers.
Table: Competitor List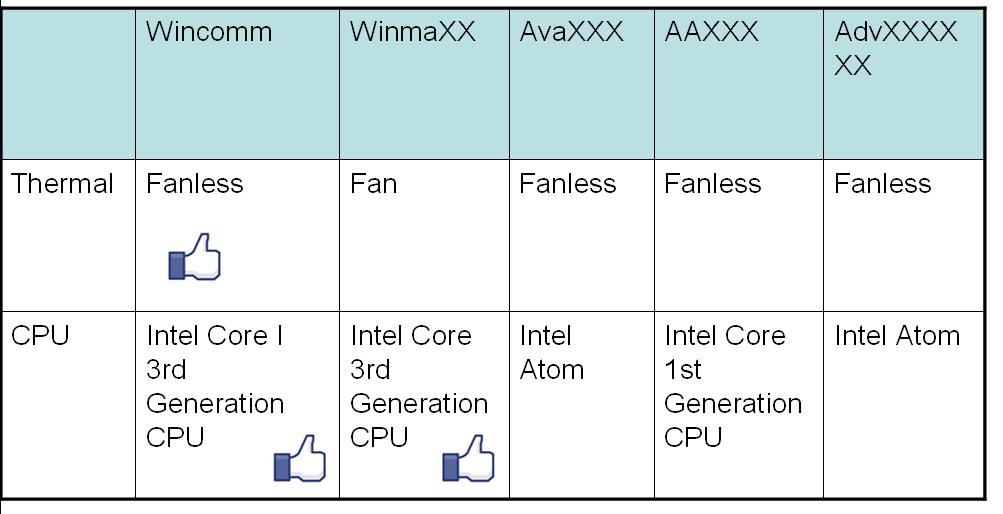 According to Wincomm, the WLP-7A20 not only offers improved performance but has also IP66 water and dust resistance. The front IP-66 panel is water-resistant, reducing the chance of damage to the computer system from splashing water. The result was a longer shelf life and sturdier packaging. The improved ruggedness allows automated operation in different factories such as textiles or food processing.
The WLP-7A20-15V uses a 15" 4:3, XGA (1024 x 768) touch screen with a brightness of 300 nits. The WLP-7A20-17V uses a 5:4 SXGA (1280 x 1024) touch screen with a brightness of 380 nits. The WLP-7A20-19V uses a 5:4 SXGA (1280 x 1024) touch screen with a brightness of 350 nits.
The WLP-7A20 series built in the integrated Intel HD Graphics HD 4000 of the 3rd generation Core i CPU for graphics. The integrated Intel HD 4000 graphics is not just twice as fast as the 2nd generation Intel HD graphics. It rivals entry-level standalone graphics card in power and can easily handle the demands of intensive graphical interfaces or 3D graphics
All WLP-7A20 panel PCs support a 2.5" SATA HDD and 2 Mini PCIe slots. I/O includes 3 COM (RS485 with auto flow control), 4 USB 2.0, 2 LAN, 1 DVI-I, 1 Line-out and 1 MIC. Options include stainless steel or silver frame. The customer can also customize the Open Frame or chassis type housing to meet the mounting requirements for different environments.
Everything, from the Mainboard, BIOS, Driver to the mechanical design was designed from scratch by Wincomm, so special customer requirements can be catered to and a steady supply provided over the long-term. The WLP-7A20 series is now available for sale. Please contact Wincomm sales at:
sales_support@wincomm.com.tw
for your product requirements. For more product information, please visit the Wincomm website at
http://www.wincomm.com.tw/