Wincomm announces Intel Bay Trail CPU platform WLP-7B20 / WTP-8B66 Series
2015-04-02
Quad-core design is better than previous ATOM D2550; providing high performance, low power consumption, low temperature advantages
Wincomm has added the high-end Intel Bay Trail platform to the industrial panel WLP PC series and stainless steel panel PC WTP series. With a clock rate of 2.0 GHz using the Bay Trail CPU design. the Bay Trail CPU quad-core design is up to three times more powerful than the ATOM D2550 dual-core, providing high performance, low power consumption, low temperature and other advantages.
Picture: WLP-7B20 Series

Industrial Panel PC WLP-7B20 series comes in three sizes, 10 '', 12 '', 15 '' and incorporates a fanless design that is suitable to use in a variety of automated control systems. The Full flat touch allows for two types of touch options for the customer: 5-wire Res. or IP69K P-cap. In addition to the IP66 waterproof and dustproof from frame, the WLP-7B20 also has a touch screen lock design. This design enables a more user friendly method to wipe clean the front of the system without having to power it off.
Table:WLP-7B20 Spc.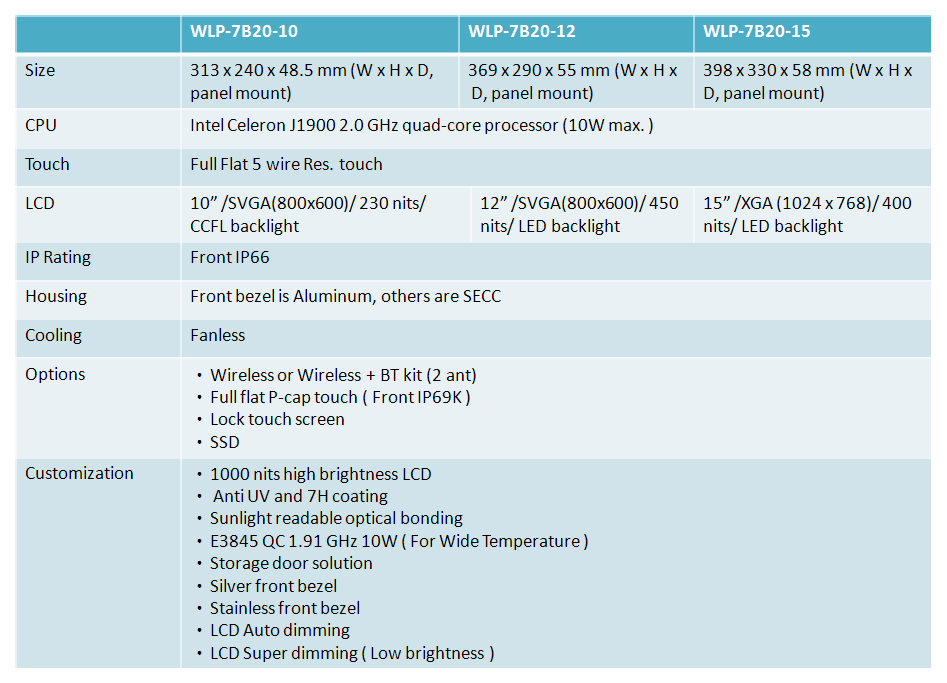 Food-grade stainless steel Panel PC WTP-8B66 series comes in two sizes, 15/19 inch, and have high strength SUS304 stainless anti-corrosion housing, fanless thermal design and full IP66 waterproof / dustproof M12 metal connectors. The panel PC series are built to withstand harsh environments and have undergone strict waterproof testing and anti-condensation screen testing (such as preventing screen condensation due to temperature or humidity), to ensure both safety and top performance.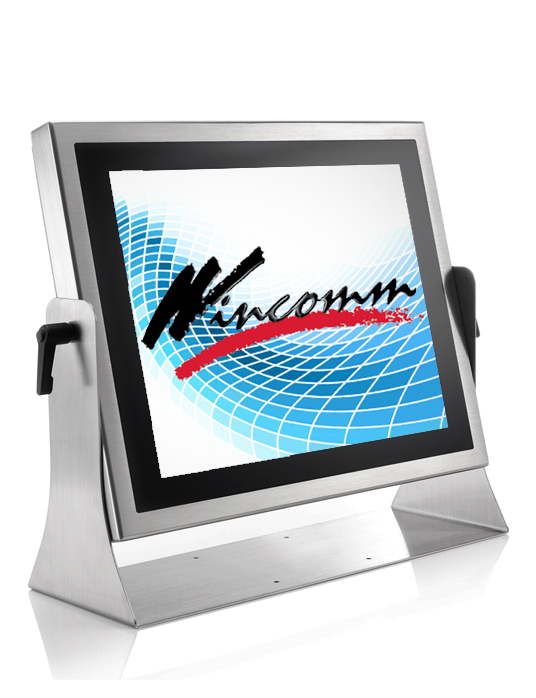 Table:WTP-8B66 Spc.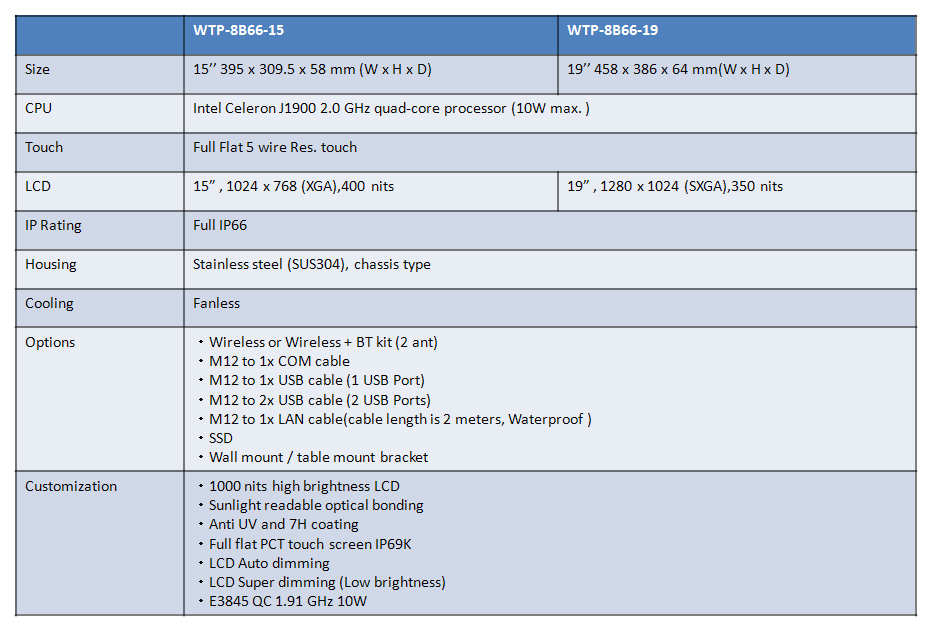 In product certifications, WLP-7B20 / WTP-8B66 have passed FCC, CE (EMC), VCCI Class B certification standards. Our competitors only have Class A certification. Wincomm, a leader in technology, have gone through stricter EMI testing beyond the maximum radiation and noise required for Class A certification. This not only ensures that the human body will not suffer from electromagnetic waves, but also improves user safety.
Picture: FCC, CE (EMC), VCCI Class B certification

In customization, WLP-7B20/ WTP-8B66 provide different solutions for environmental applications. For example, when using as a outdoor information kiosk, the WLP-7B20/ WTP-8B66 can be configured with 1000 nits high brightness LCD, anti UV and 7H coating, sunlight readable optical bonding, and wide temp CPU E3845 QC 1.91 GHz (10W) options. When low brightness for marine usage was requested, our Bios function "LCD super dimming" capability was used to achieve ultra-low brightness.
Everything, from the motherboard, BIOS, driver to the mechanical design was designed by Wincomm, so special customer requirements can be catered to and a steady supply provided over the long-term. The WTP/WLP Series is now available for sale. If you have any product or customization requirements, please contact Wincomm sales (mail: sales_support@wincomm.com.tw). For more product information, please visit the Wincomm website at http://www.wincomm.com.tw/