Wincomm Medical Panel PC WMP-24''series and WMP-15''series Certified for Energy Star 6.1
2015-11-09
EPA announcement ENERGY STAR Computer Specification version 6.1 expanded specifications to cover Tablet PC and All in One PC
The Energy Star program was established by EPA in 1992, through a combination of manufacturers, retailer, and corporations, to promote an industry-wide cooperation project. Through the introduction of the Energy Star program, the EPA hoped to promote energy-efficient products and change the consumption style of the masses. Wincomm is responding to current energy trends by including the Energy Star certification into WMP-249/248/153 and using power management techniques to achieve Energy Star certification standards.
PIC: Energy Star certification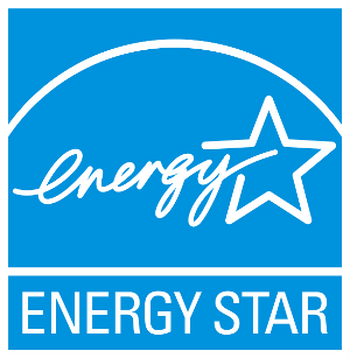 WMP-248/249 is mainly suited for hospital surgery room medical image system. The 24 inch high performance multi touch medical grade panel pc is built on the Intel 4th generation CPU Haswell embedded processors with excellent graphic performance. WMP-248/249 I/O is designed for Video-In x1 & DP Output x 2. Additionally, it is capable of receiving surgery room video transmission. These transmissions are turned into digital signals and can be stored and edited. The dual-screen connection can help in interpreting medical images.
PIC: WMP-153/248/249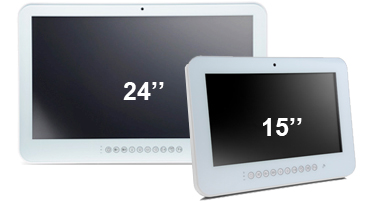 WMP-153 is best suited for nursing carts and bedside terminals where high definition and crystal clear images are required and necessary for patients. It has a Intel Celeron J1900 quad-core processor (2.0 GHz), benchmark 1928, to supply low energy consumption processor that provides a stable, high-performance system.
Table: WMP-153/248/249 spc.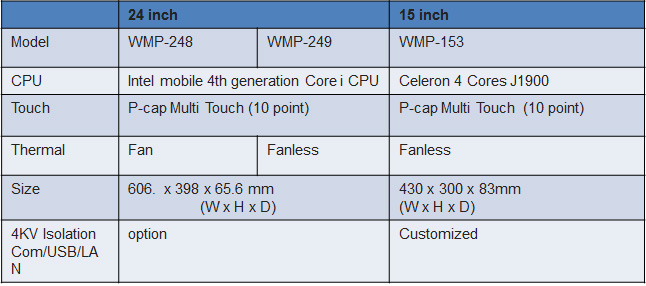 Energy Star certification is a cooperation program by the US Environmental Protection Agency, Department of Energy and enterprises for global warming, earth's climate anomalies, environmental degradation and othernatural ecological impact. Wincomm designed its power management model and peripherals to meet theEnergy Star 6.1 certification standards. Whether it's the IPS (internal power supply), EPS (external powersupply), or the power management mode, all have met certification standards.
Everything, from the motherboard, BIOS, driver to the mechanical design was designed by Wincomm, so special customer requirements can be created to and a steady supply provided over the long-term. The WMP-24'' series and WMP-15'' series are now available for sale. If you have any product or customization requirements, please contact Wincomm sales (mail: sales_support@wincomm.com.tw). For more product information, please visit the Wincomm website at http://www.wincomm.com.tw/