Computex 2019 Wincomm Enable Medical Vision AI by Demo 3D Endoscope System and Smart Medicare Solution
2019-05-22

-
Wincomm innovates together with our partners to develop medical Panel PC,
WMP-G/H series
to deliver smart EMR, medical care and operation solutions, and it connects an all-encompassing EMR/Medical Care network to a variety of panels, monitors, as well as displays to keep patient information versus important data as accessible as possible at all times.
-
Use Cases - Edge AI Medical Care Solution Avoid Violence at Hospitals
-
In 2019, Wincomm's WMP-H series, integrated with Gorilla's
IVAR™
, offers AI-based anti-violence solution for hospitals. Currently, this new application is in proof of concept phase at well-known hospitals in Asia.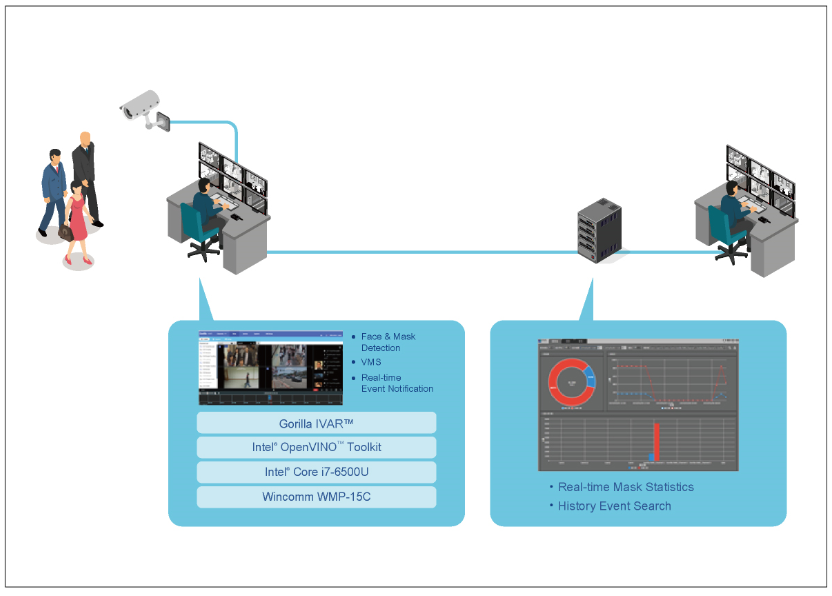 Fig 1. Gorilla IVAR, Edge AI integrated with Wincomm WMP series, is applied to medi-care solutions in hospitals.
-
Use Cases – 3D Endoscope Solution Realistic Vision During Operation
-
As more and more operation entering minimally invasive surgery, the 3-dimentional or stereo vision is required for more accurate surgery. To innovate a high computing power e-platform with stereo high resolution monitors is what Wincomm contributed together with MedicalTek and other medical equipment providers. In Y2019, Wincomm demonstrate MDTK monostereo 3D system, by our 3D 32" medical monitor 1st sample released in public.
Fig 2. MDTK Monostereo 3D using Wincomm 3D 32" medical monitor to enable minimally invasive surgery at hospital.
-
New Product Announcement – Explosion Proof Panel PC & Car Ignition HMI PC
-
In Computex 2019, Wincomm is pleased to release a series of brand-new products, Explosion Proof Panel PC in 15", 19" and 22". Featuring Intel® Skylake processor and C1D1, ATEx Zone 2 certified, WTPE-9E66 series is now under project phase in at JP and EU factories. Besides, the whole new industrial grade panel PC is turning to a new out-looking with frame-less design at 10" touch panel PC, WLP-7B21-10 series. It is also the first demonstration to enable vehicle usages by car ignition design.
-
Value Differentiators to Customer Benefits
-
Wincomm provided wide range of medical touch panel PC, box PC and monitors for e-Healthcare features Intel® Core™ high computing power, swappable batteries to ensure cable-less, persistent operability and extended monitors for multi-usage. The medical series features UL/EN 60601-1 and anti-bacteria (MRSA) housing certification for powerful processing and high expansion capability, enabling versatile medical professional applications. With real-time video streaming capability and a user friendly front hot key, it was designed to operate under medical usage environment, and an optional isolated I.O to avoid electricity leakage to damage medical equipment to secure healthcare operation safety. Moreover, the
WMP-H
Series is capable to install with MXM graphic card, allowed energy-efficiency GPU with 4GB dedicated video memory to quickly render high-quality medical images and 3D applications.
-
CE, FCC, VCCI Class B and IEC 60601-1-2 certification standards
-
The
WMP, WPC
series has granted FCC, CE, VCCI Class B and IEC 60601-1-2 4th edition certification standards, which has stricter electromagnetic waves standards. Our users have a higher protection level in their health and safety from the electromagnetic waves while using our products.
For more information, please visit Wincomm at booth no K0128, Nangang Exhibition Hall 1F.May 28 to June 1, Computex 2019.
-
Everything, from the Mainboard, BIOS, driver to the mechanical design was designed by Wincomm. Special customer requirements can be fully supported with a long-term supply policy. If you have any product or customization requirements, please contact Wincomm sales (mail: sales_support@wincomm.com.tw). For more product information, please visit the Wincomm website at http://www.wincomm.com.tw/
-


Wincomm is one of Taiwan's leading manufacturer of industrial computer and embedded computer products. Wincomm designs and develops all in one panel PC, large size all in one digital signage system, rugged box PC and embedded software products for a broad range of industries and applications. Wincomm aims to provide hardware and software integrated solutions for the most variant environments such as industrial automation/ human machine interface control, digital signage / infotainment Kiosk, and medical computing.