Medica 2019 Empower Medical Devices with Wincomm Powerful Imaging Solutions
2019-11-11
Düsseldorf, Germany –13rd November, 2019, Wincomm, a leading medical and industrial computer provider, announced powerful medical imaging panel PC, scalable up to 24" WMP-C/F/G/K series to target at Smart EMR Solution, which is recognized by Intel® Market Ready Solution, and it combines the best technology of the medical 4.0 IoT trend with a high-capacity EMR software that can dramatically improve healthcare facility operations and patient care.







Figure 1. Welcome to visit Wincomm at Medical.
Solution Overview
One significant challenge that must be overcome to realize smart hospital and IoMT deployments based on dynamic EMRs is medical imaging. Medical imaging is the largest and fastest-growing data source in the healthcare industry, accounting for 90 percent of all healthcare data. To fulfill this trend, Wincomm innovates together with our partners to develop medical Panel PC, WMP-G/H series designed from the ground up for deployment in smart hospital environments. The scalable TFT LCD multi-touch displays range in size from 22" to 24", and offer resolutions of up to 1920 by 1080 full-HD to 4K2K UHD resolution. They even provide optional support for the Digital Imaging and Communications in Medicine (DICOM) standard, which delivers high levels of luminance for clinical-grade examination in operating rooms or at a patient's bedside.


Key Capabilities and Use Cases
Connect:

access the EMR conveniently through Wi-Fi, Ethernet, Bluetooth, & 3G/4G/5G accessibility

Communicate:

update medical history, medications, diagnostic results, treatment plans, and patient info seamlessly for convenient service

Compute:

enable efficient data consumption and transmission using a powerful suite of Intel® 7th generation Core® i5 or i7 processor

Cable-less:

operate 24/7 in a diverse range of healthcare facilities with a swappable batteries and wired power to assist both cable-less and mobile operation

Optional MXM Graphic Cards:

3D medical imaging-capable MXM graphics card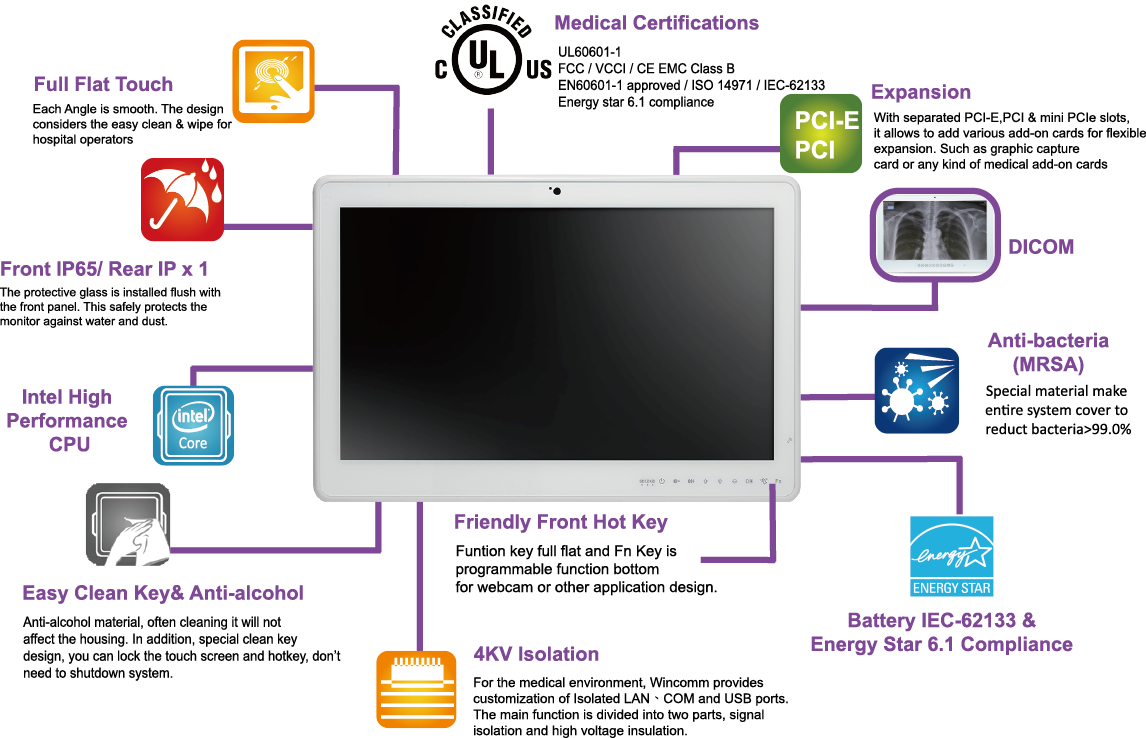 Figure 2. WMP series medical-grade touch panel PCs incorporate a range of design features that make them suitable for high-reliability, germ-resistant, 24/7 operation in smart hospital environments.
In terms of I/O, WMP-G/H series medical touch panel PCs come standard with DisplayPort, LAN, and USB 3.0 or 3.1 interfaces, with M.2 slots available on select models. These M.2 ports allow for the integration of various wireless modules that support WLAN, 802.11a/b/g/n, Bluetooth, or RFID connectivity that make WMP series platforms easy drop-in additions to any IoMT deployment.
Value Differentiators to Customer Benefits
WMP-G/H series features swappable batteries to ensure cable-less, persistent operability and is based on 7th generation Intel® Core® processors and designed to meet the mobility, connectivity, and processing requirements of healthcare IoMT edge networks. Given the significant amount of compute performance, memory, 128 GB SSD, and expansive wireless connectivity options, G/H Series PCs are perfectly suited as sensor hubs that can integrate data from nearby medical devices, perform AI-based image or streaming data analysis, and render EMRs for nearby healthcare professionals. With real-time video streaming capability and a user friendly front hot key, it was designed to operate under medical usage environment, and an optional isolated I.O to avoid electricity leakage to damage medical equipment to secure healthcare operation safety.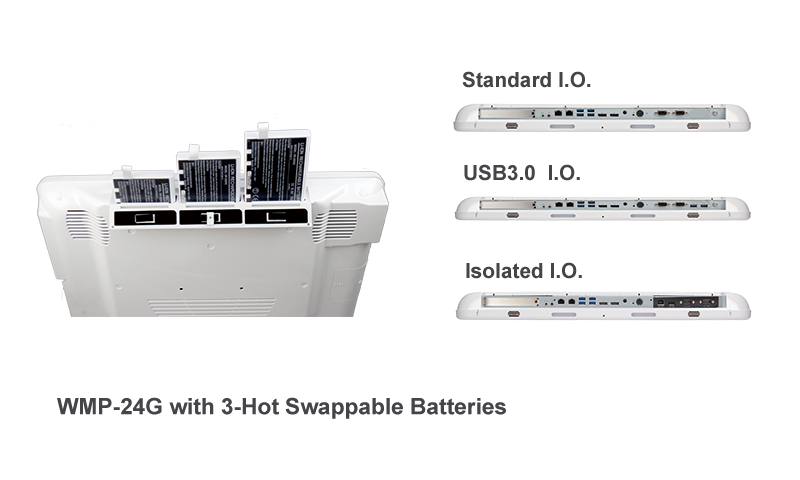 Figure 3. The integration of hot-swappable batteries makes the WMP-22G/24G series panel PCs highly suitable for mobile EMR applications.
In November 2019, it is the first time to release WMP-19K series, featuring 8th to 9th generation Intel® Core i5/i7 processors and 3D medical imaging-capable MXM graphics cards, and it could take medical imaging to the next level, and also allow for the integration of peripherals like webcams for live streaming of lab tests or surgical operations. Currently, it works well for AIoMT at hospitals in certain running projects, and the first demo at Düsseldorf, Germany.
CE, FCC, VCCI Class B and IEC 60601-1-2 certification standards
The WMP G/H/K series has granted FCC, CE, VCCI Class B and IEC 60601-1-2 4th edition certification standards, which has stricter electromagnetic waves standards. Our users have a higher protection level in their health and safety from the electromagnetic waves while using our products.
IEC-60601-1 certification

, which ensures the safety and essential performance of medical electrical equipment

IEC-62133 certification

guarantees the safe operation of portable, Li-ion battery-based devices

ISO 14971 certification

, which covers risk management in medical devices including an inherently safe device design, protective measures during manufacturing, and information safety

FCC, CE, and VCCI certifications

that ensure proper wireless operation within acceptable RF emissions limits

Energy Star compliance

, ensuring efficient power consumption
Everything, from the Mainboard, BIOS, driver to the mechanical design was designed by Wincomm. Special customer requirements can be fully supported with a long-term supply policy. If you have any product or customization requirements, please contact Wincomm sales (mail: sales_support@wincomm.com.tw). For more product information, please visit the Wincomm website at https://www.wincomm.com.tw/
Wincomm is one of Taiwan's leading manufacturer of industrial computer and embedded computer products. Wincomm designs and develops all in one panel PC, large size all in one digital signage system, rugged box PC and embedded software products for a broad range of industries and applications. Wincomm aims to provide hardware and software integrated solutions for the most variant environments such as industrial automation/ human machine interface control, digital signage / infotainment Kiosk, and medical computing.