Wincomm Launches Intel Apollo Lake Industrial Fanless Touch Panel PC WLP-7E20 Series
2020-05-29
Wincomm Launches Intel Apollo Lake Industrial Fanless
Touch Panel PC WLP-7E20 Series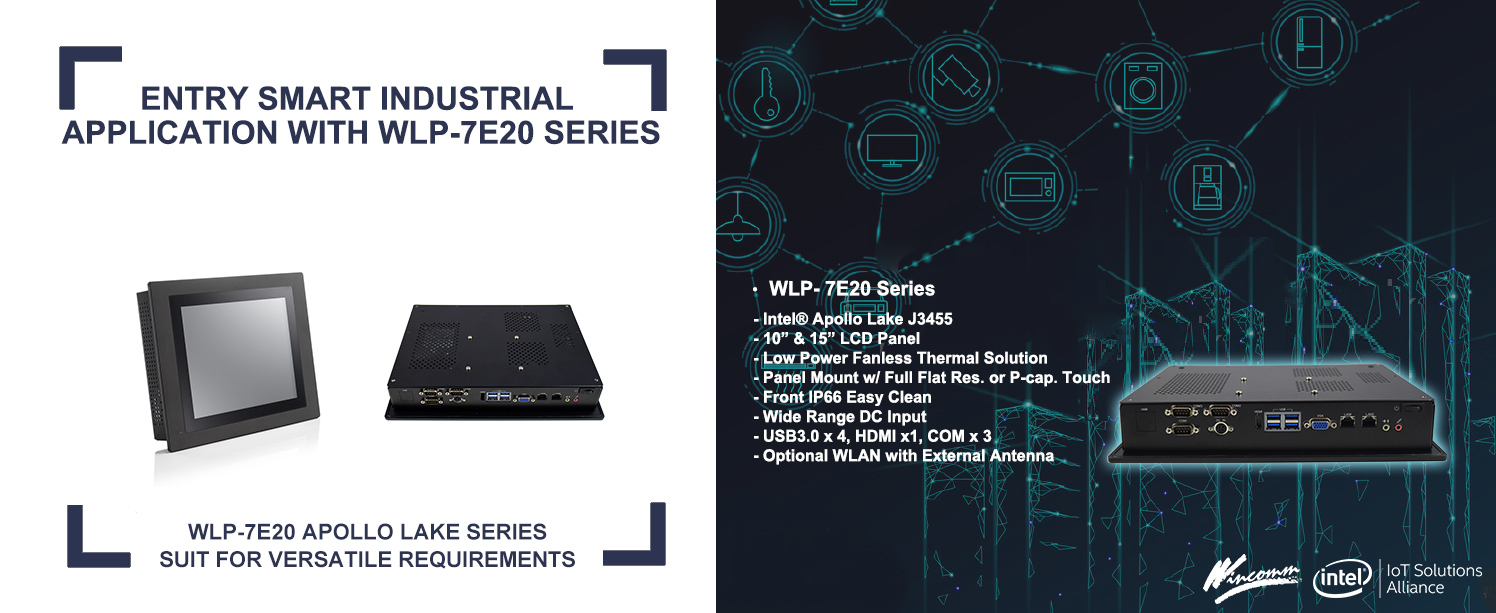 As a leading Industrial Panel PCs Maker, Wincomm released its new WLP-7E20 series with Intel Apollo Lake CPU and now are available in sizes of 10.4 and 15 inches. Featuring at its water and dust proof IP66 front and fanless thermal solution, WLP-7E20 series expand its computing performance selections compare to the previous generation series WLP-7B20 series, and enhance its low power design to suit for various applications, such as, smart building HMI applications, access control systems, kiosk, and other smart facility control solutions.
Highest protective front IP66 design w/resistive touch solution
In addition to the CPU performance difference, this industrial grade touch panel PC WLP-7E20 series designed with powerful fanless soulutions to suit for various industrial automation control systems. A full flat touch design with 5-wire resistive touch and an IP66 waterproof and dustproof front frame makes it convenient for factory operations and to clean.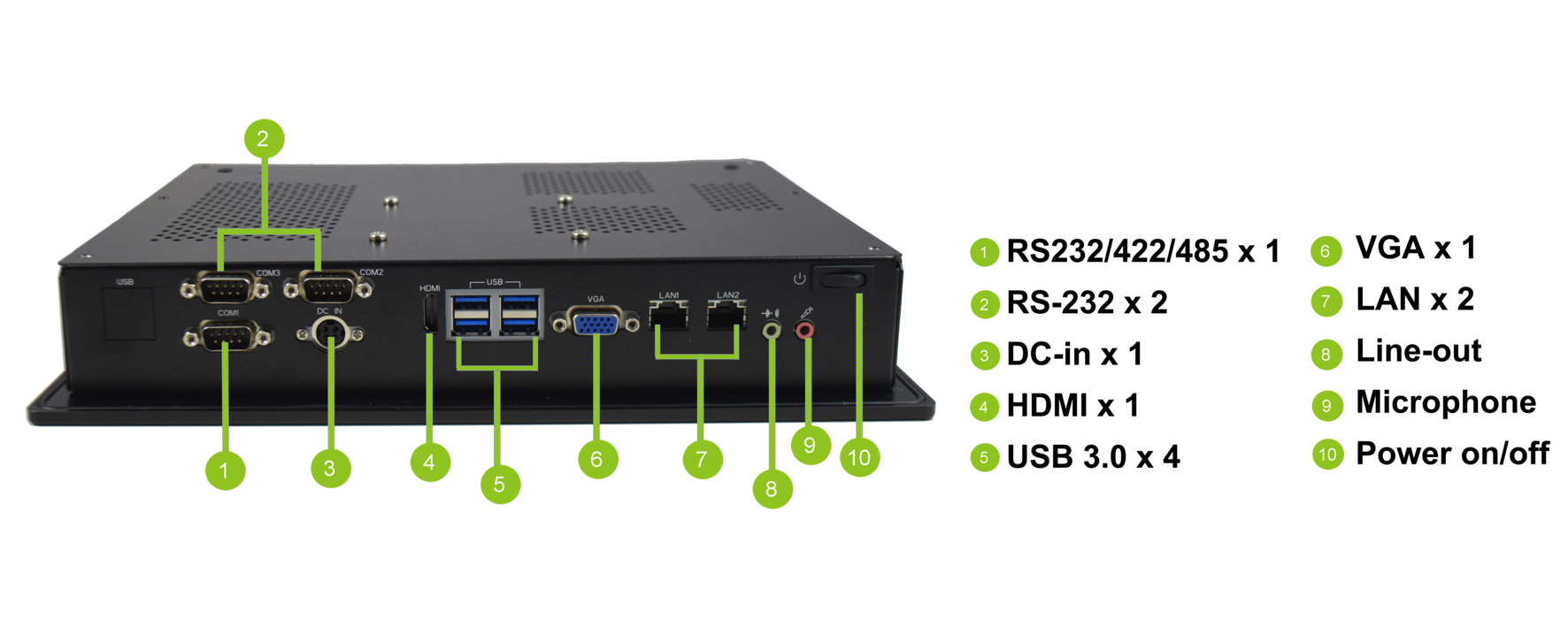 Fig 1. Continued with WLP-7B20 series housing design, WLP-7E20 series owns HDMI, USB 3.0 x4, COM x3, and optional USB 2.0. More I.O. selections and expansions makes it useful for applications.
  
Flexible Options and Customization Capability
The WLP-7E20 series equipped with various I.O. ports, USB3.0 up to 4 (Optional USB 2.0), COM x 3, LAN x 2, HDMI x 1, and expansion slot with M.2 type E for PCIe versus mini PCIe interface. Toward connected world for high speed transferring rate requirement, Wincomm offered optional add-on parts to support more workplace application, such as optional M.2 NVMe SSD, WLAN with external antenna, and more service to support your needs.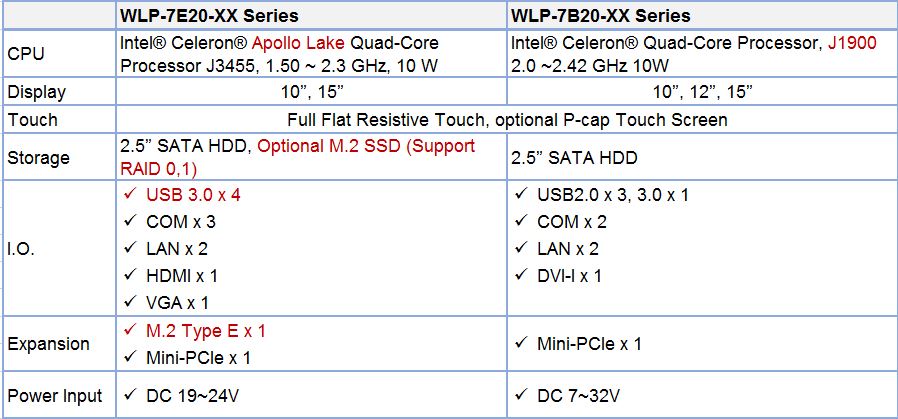 FCC, CE (EMC), VCCI Class B certification standards
In product certification, WLP-7E20 series has granted FCC, CE (EMC), and VCCI Class B certifications, which is better than class A compare to most competitors. Class B has stricter electromagnetic waves standards, upgraded from industrial grade to home grade. Our users have a higher protection level in their health and safety from the electromagnetic waves while using the WLP series.

Everything, from the Mainboard, BIOS, driver to the mechanical design was designed by Wincomm. Special customer requirements can be fully supported with a long-term supply policy. If you have any product or customization requirements, please contact Wincomm sales (mail: sales_support@wincomm.com.tw). For more product information, please visit the Wincomm website at http://www.wincomm.com.tw/
About Wincomm
Wincomm is one of Taiwan's leading manufacturer of industrial computer and embedded computer products. Wincomm designs and develops all in one panel PC, large size all in one digital signage system, rugged box PC and embedded software products for a broad range of industries and applications. Wincomm aims to provide hardware and software integrated solutions for the most variant environments such as industrial automation/ human machine interface control, digital signage / infotainment Kiosk, and medical computing.