A Greater Honor to be Awarded as Y2020 Best Intel® MRS/RRK Partner 
2020-07-15
A Greater Honor to be Awarded as Y2020


Best Intel® MRS/RRK Partner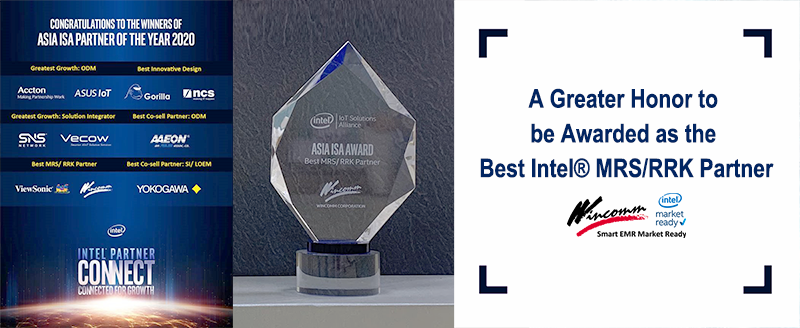 It is even a greater honor to be awarded as Intel® Asia ISA the Best MRS/RRK Partner of the year 2020, especially at Medical applications. Wincomm appreciate all our worldwide partners to roll out this excellent achievement together and sincerely wish to grow continuously in the near future.
Wincomm has been well recognized as award winner during past years including Taiwan Excellence and Best Choice at Computex Taipei. Thank you Intel for, acknowledging Wincomm's achievement and thank you to all our eco-system partners versus customers for your great partnership within years at the highest respect!
About Wincomm
Wincomm is one of Taiwan's leading manufacturer of industrial computer and embedded computer products. Wincomm designs and develops all in one panel PC, large size all in one digital signage system, rugged box PC and embedded software products for a broad range of industries and applications. Wincomm aims to provide hardware and software integrated solutions for the most variant environments such as industrial automation/ human machine interface control, digital signage / infotainment Kiosk, and medical computing.