Wincomm Industrial Modular Panel PC WLPM Series Extend Scalability at HMI Control Solutions
2020-10-08

Wincomm Industrial Modular Panel PC WLPM Series
Extend Scalability at HMI Control Solutions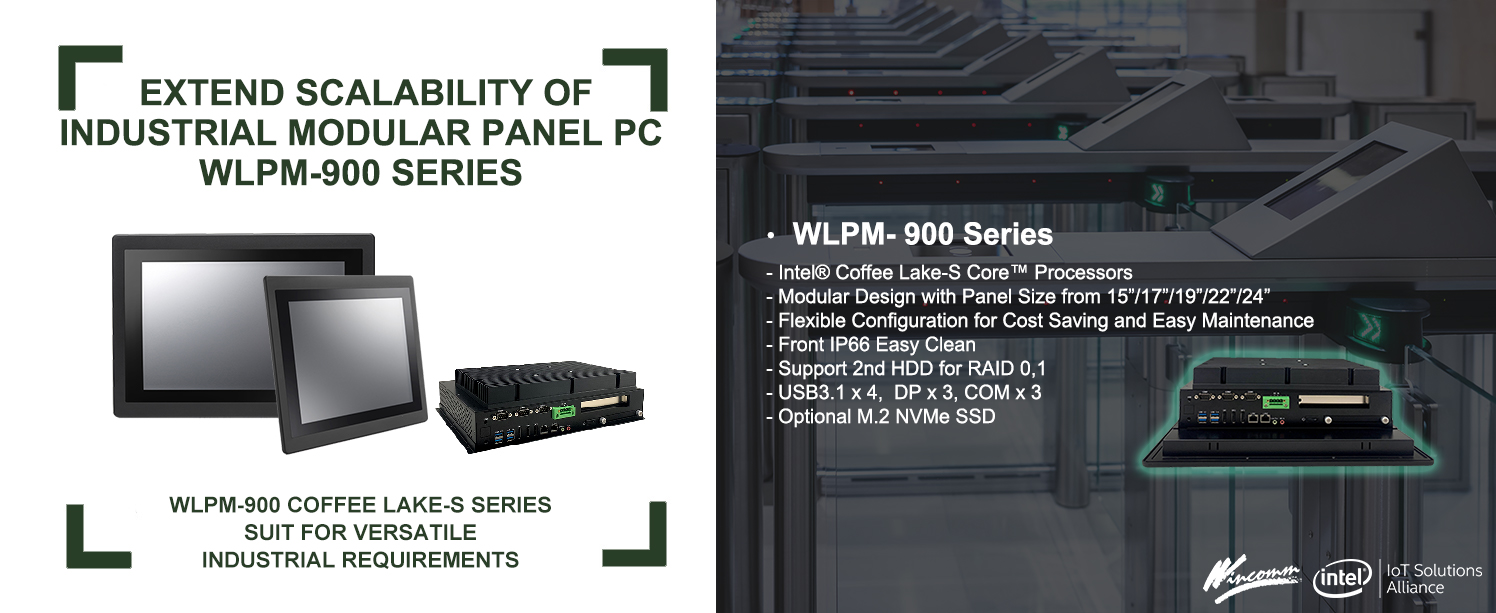 Fig 1. Wincomm WLPM-900 series design to enable industrial automation modularization solutions.
Wincomm, a long-time leader in medical and industrial panel PC field with a focus on unique thermal solutions, introduces the advanced modular touch panel PC WLPM-900 series. Designed to easily extend scalability under rugged industrial environment, Wincomm has developed a modular design, consisting of a box PC platform adopting with various panels, sizes ranging from 15", 17", 19", 21.5" to 23.8" to suit flexible and scalable industrial IoT solutions. WLPM series come up with the docking design, smart thermal management, waterproof and dustproof (IP66 front panel mount), and most advanced high computing power, Intel® Coffee Lake-S Core™ processors to speed up data flow and increase system efficiency under longevity supply.
  
Modular Design w/High Computing Power Optimizes Long Term CP
Featuring flexible modularization panel versus box pc combination, WLPM-900 series are designed with docking structure and make it easy to maintain and reconfigure to sustain rapid change IIoT environment in a lower cost of overall ownership. Moreover, WLPM-900 series are equipped with Intel® Coffee Lake-S Core™ processors, defaulted i5-9500TE, a six-core 2.2Ghz to 3.6Ghz powerful CPU (PassMark: 9212), up to 32 GB of DDR4 memory, and 500GB HDD with optional M.2 SSD, which fully support high speed data transfer rate to optimize long term advantage for various IIoT requirements.
  



  
Protective front IP66 design w/ smart thermal solution
To maintain high computing performance with fanless design, WLPM-900 series are leveraged our own excellent smart thermal management by designing BIOS to control the CPU core speed away from overheating, to extend operation temp. from 0℃ to 50℃. In addition, the panel mount frame design to pass IP66, withstanding with waterproof and dustproof, makes it easy to clean and convenient for operations in rugged environment. Besides, it improves product configuration by minimizing ventilation grille on the back panel, and terminal blocks for easy power plug in to benefit users. All above are make it best suit for versatile industrial automatic environment, such us factory control, surveillance, smart kiosk, military, communication centers and so on.

Flexible Options and Customization Capability
WLPM-900 series are equipped with various I.O. ports, USB3.1 up to 4 (optional USB 2.0), COM x 3 and LAN x 2. Besides, it provides accessible 2.5"HDD/SSD bay for easy replacing the storage without opening the back cover, and unique cable relief built in to unit, to remove the stress on the cables from the IO. Offered optional add-on parts, such as 2nd HDD for RAID 0,1, PCIe (x16) riser card and customization service, such as open frame, chassis type and so on, WLPM is ready to support more workplace applications.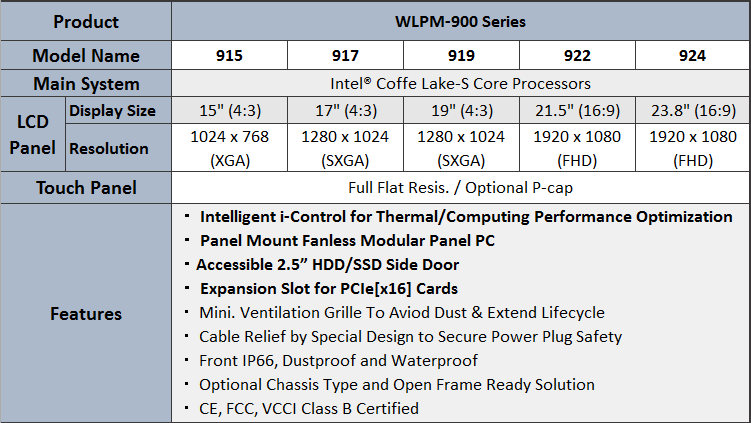 Everything, from the BIOS, driver to the mechanical design was designed by Wincomm. Special customer requirements can be fully supported with a long-term supply policy. If you have any product or customization requirements, please contact Wincomm sales (mail: sales_support@wincomm.com.tw). For more product information, please visit the Wincomm website at https://www.wincomm.com.tw/

About Wincomm
Wincomm is one of Taiwan's leading manufacturer of industrial computer and embedded computer products. Wincomm designs and develops all in one panel PC, large size all in one digital signage system, rugged box PC and embedded software products for a broad range of industries and applications. Wincomm aims to provide hardware and software integrated solutions for the most variant environments such as industrial automation/ human machine interface control, digital signage / infotainment Kiosk, and medical computing.