Wincomm Launched Full IP66/67/69K Whiskey Lake CPU Platform Stainless Panel PC WTP-9G66 Series
2021-04-01
 
 
Wincomm Launched Full IP66/67/69K Whiskey Lake CPU Platform Stainless Panel PC WTP-9G66 Series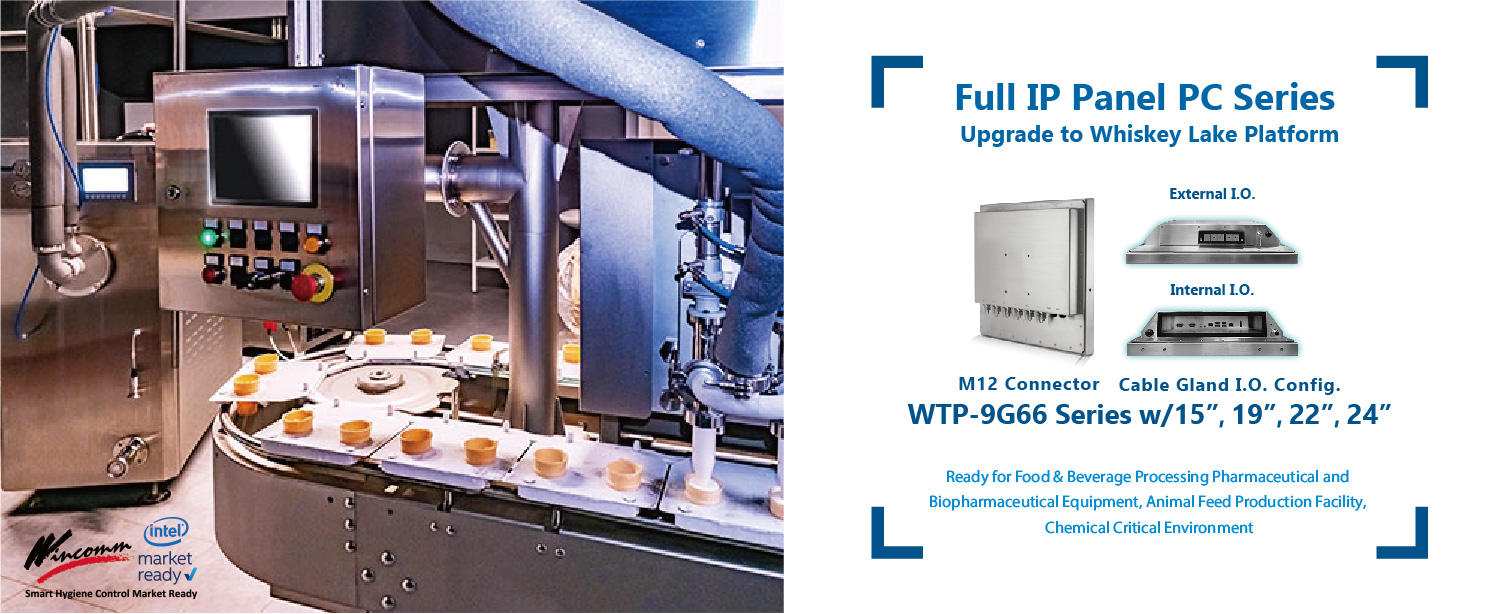 Fig 1. New Whiskey Lake Core i stainless steel full IP panel PC series, WTP-9G66 are ready to 15", 19", 22" and 24" sizes for various food & beverage processing, pharmaceutical and biopharmaceutical equipment, animal feed production facility and chemical critical environment.
Wincomm announced the newest Intel 8th Generation Whiskey Lake IP66/67/69K Stainless Steel Touch Panel PC WTP-9G66 series ranging from 15", 19", 22", to 24", ready for food processing and pharmaceutical applications. Upgraded I.O. configuration with both M12 downward connector and optional cable gland SKU, WTP-9G66 series provide the default IP69K for the whole system, second HDD for data back-up and USB3.1 up to 4 for speeding high data transfer rate, and target on higher performance applications in the hygienic environment applications.
  
Entire WTP series brings IP69K, the highest protective solutions
The WTP series are thoroughly and rigorously tested to ensure an IP69K rating. In addition, Wincomm supports wireless solution with a PCB type antenna and a heavy-duty cover which makes it easy to clean and anti-correction in harsh environments. We bring our core competence and experience in every detail to the design of our products, providing stable and reliable products to our customer.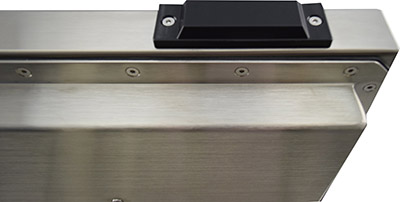 Fig 2. With robust antenna design, it is still 100% water and dust proof guarantee with full sealed enclosure by non-corrosion SU304 or SU316 stainless steel is important to food grade machinery design.
  
Smart automation factory solutions with high speed data communication
At full sealed applications, Wincomm design full IP series which designed with stainless steel housing and M12 metal connectors with fixed I.O. combination to extend external I.O. by M12 connectors. Moreover, now it is innovated new cable gland for external I.O. to shorten customization time and cut down cost fee to benefit directly to most versatile applications. It would maximum I.O. combination based on various conditions by its flexible cable grommets with up to 5 external I.O. selections, which extend the flexibility to fit in rapid-change rugged environment to fulfill various application requirement.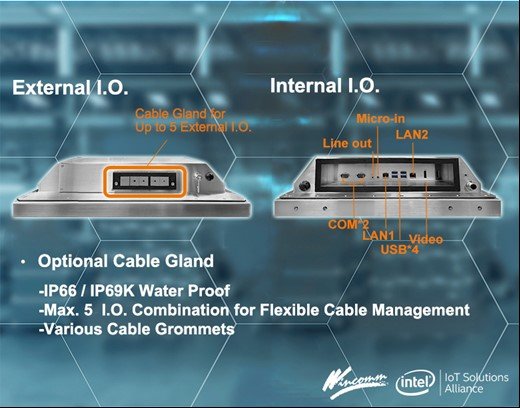 Fig 3. Optional cable gland for external I.O. solution, 4 X USB3.1, 2 X COM, 2 X LAN, 1 X HDMI1.4a, 1 x DP, suits for the rapid changed industrial environments with various I.O. combination under IP66/IP69K test proof.

CE (EMC) :EN61000-6-4 ; EN61000-6-2 / FCC/VCCI Class B certification standards
The WTP series has passed CE (EMC) :EN61000-6-4 ; EN61000-6-2 / FCC/VCCI Class B certification standards, which results in an upgraded product for industrial, to home, to office, and laboratory usage. Our users have a higher protection level in their health and safety while using our products.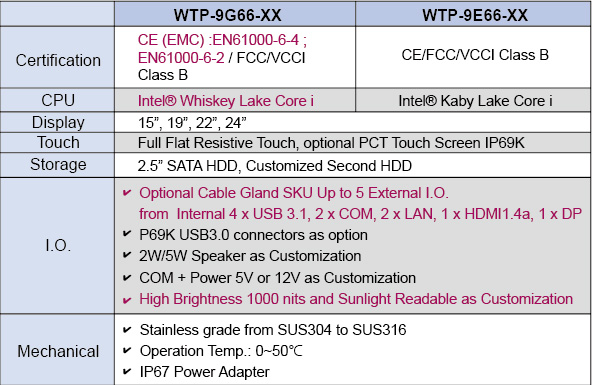 Everything, from the Mainboard, BIOS, driver to the mechanical design was designed by Wincomm. Special customer requirements can be fully supported with a long-term supply policy. If you have any product or customization requirements, please contact Wincomm sales (mail: sales_support@wincomm.com.tw). For more product information, please visit the Wincomm website at https://www.wincomm.com.tw/
About Wincomm
Wincomm is one of Taiwan's leading manufacturer of industrial computer and embedded computer products. Wincomm designs and develops all in one panel PC, large size all in one digital signage system, rugged box PC and embedded software products for a broad range of industries and applications. Wincomm aims to provide hardware and software integrated solutions for the most variant environments such as industrial automation/ human machine interface control, digital signage / infotainment Kiosk, and medical computing.