2018年、COMPUTEXが開始されました。Wincommのブースをご覧ください。
2018-05-09
Empower IoT Smart Industrial & eHealthcare 4.0 Solutions

Wincomm Corp. welcomes your visit to Wincomm at Booth No. K0601 during the Computex Taipei, TW, on June 5, 2018 at the Nangang Hall 1F, Taipei.
In 2018, Wincomm invites all our business partners and industrial decision makers to empower Industrial & Medical Computing Solutions including Train, Vehicle, Full IP Waterproof and Explosion Proof Appliances, Medical ePlatforms as Edge Computing to Build IoT Infrastructure, as well as others.
Full IP66/67/69K Waterproof Wide Temp Sunlight Readable Outdoor/Factory PPC

Dedicated on highest quality industrial panel PC innovation, the Wincomm stainless panel PC series have granted full IP waterproof testing, 100% dustproof guarantee, wider temperature up to -20 to 60 degree C in shelf, and solar radiation proof suitable for outdoor, food, extremely rugged environment applications. Ranging from Intel Atom Quadcode to 6th generation Skylake Corei high computing power solutions, we are ready to provide 10" to 22" versatile touch panel PC to fulfill different solutions. Enable with intelligent innovated management i-control for power versus computing best utility and wireless remote device management system, Wincomm is proud to announce best solutions to build IoT
Best for e-Health 4.0 edge computing Choice Medical Grade Panel PC
Award granted for years, Wincomm Medical panel PC have proof its design value with excellent computing power versus thermal design. With patent protected technology focus on healthcare special feature, it is not only granted full medical certification IEC 60601 EMC 4.0 and Safety 3.1, but ranging versatile medical equipment applications such as operation room theatre, Picture Archiving and Communication System(PACS), ward information and e-Nursing stations. For 15 more years, Wincomm is promising to provide reliable and best quality medical grade products to users, and in 2018, we announces to mobile medical solutions, featuring on excellent power management utilizing 3 hot swappable batteries, high computing power up to Intel 7th generation Kabylake Core i, and fan-less solutions. With remote management IoT API platform, it is ready for most e-Healthcare solution makers to build infrastructure as best edge computing solutions.
Looking forward to seeing you at Taipei Computex 2018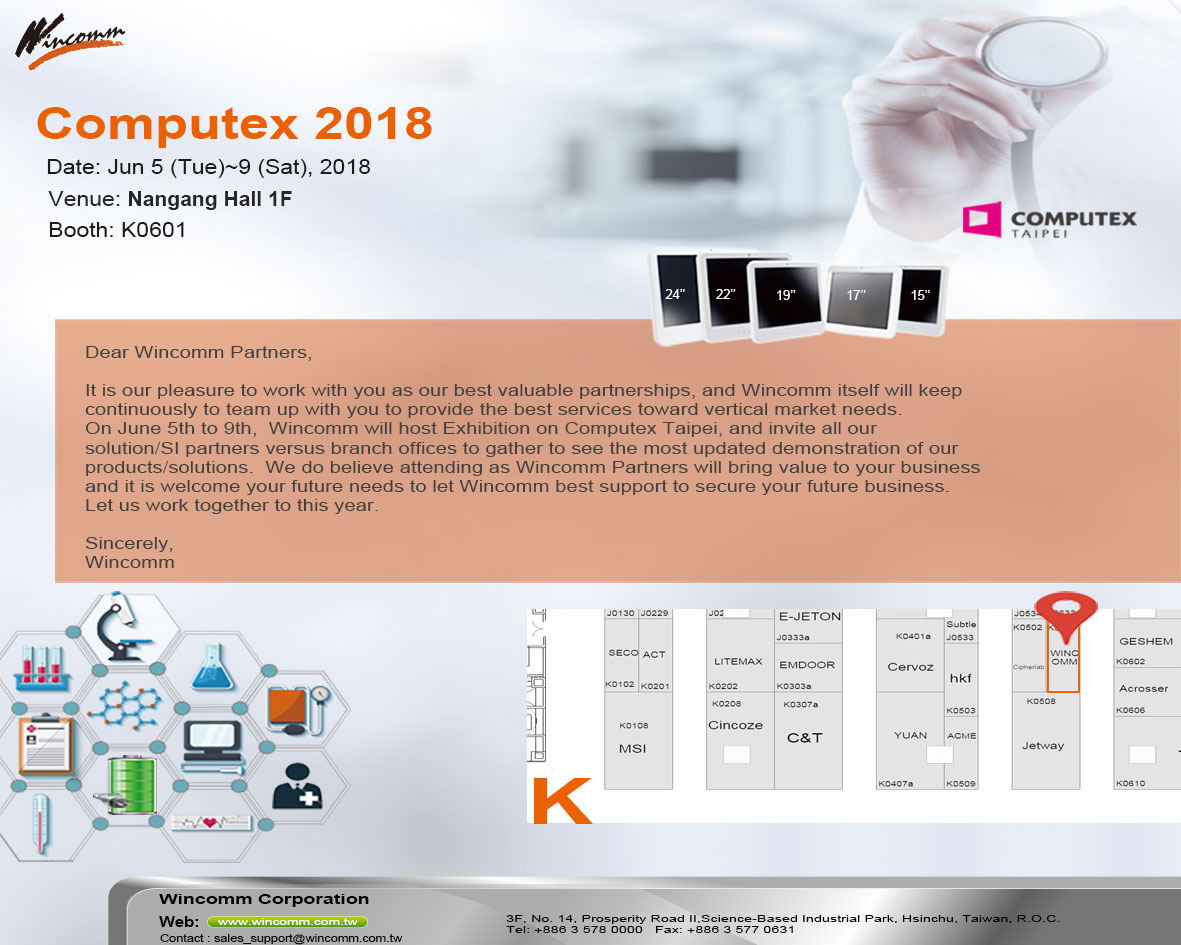 About Wincomm
Wincomm is one of Taiwan's leading manufacturer of industrial computer and embedded computer products. Wincomm designs and develops all in one panel PC, rugged box PC and embedded software products for a broad range of industries and applications. Wincomm aims to provide hardware and software integrated solutions for the most variant environments such as industrial automation, human machine interface control, infotainment Kiosk, and medical computing.