6th generation Skylake platform Medical grade touch Panel PC WMP-24F/22F/19F
2017-07-07
Intel Skylake i7/i5 CPU Medical 60601-1 4th edition EN 60601-1 certification
Wincomm announces the next generation Medical Panel PC WMP-24F/22F/19F, which comes with the Intel 6th generation Skylake platform CPU (passmark: 5655). There is a 40% performance increase over the previous generation WMP series and the DDR4 memory speed is increased by 15% and able to support up to 32 GB. The graphics capabilities are also improved significantly. Video output display port can connect to two independent external monitors and can support up to three different images simultaneously. The multiple display outputs are all capable of Ultra HD 4K resolution.


Pic: WMP-24F/22F/19F Series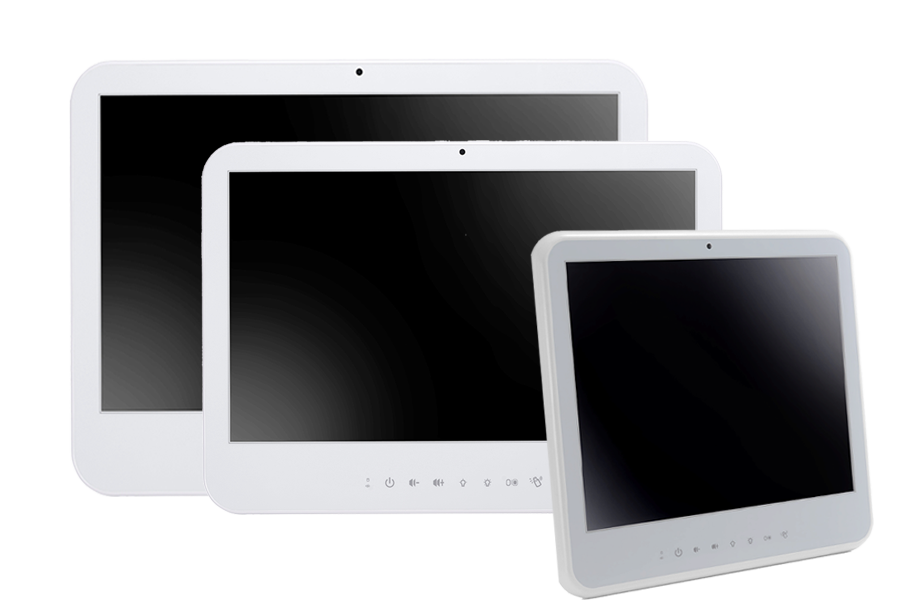 WMP-24F/22F/19F supports Intel Vpro technology to effectively enhance the information security and strengthen remote access connections.
In addition to the CPU upgrade, WMP-24F/22F/19F have a new customization option - FHD Capture card to cater to hospital workers requests:
FHD Capture card advantage of Wincomm solution
• Multi function of Endoscopy with surgical procedure / Ultrasound capture / Surgical recording and image capture integration system.
• Built directly into WMP series system, no extra installation needed on customer's end.
• Supports both hardware compression and software compression.
• Complete compatibility and reliability test under Wincomm quality system.
In addition, the WMP-24F/22F has other customization options:

In addition to the significant increase in CPU performance and new customization options, the WMP-24F/22F/19F is a continuation of the WMP series housing design. The anti-bacterial housing is effective against MRSA (staph), and the continuous use of alcohol to clean the unit will not reduce the anti-bacterial effect. In the design concept, Wincomm retains its flexible expansion slot design with a PCI-E [x16] slot. WMP-24F/22F/19F can also be equipped with a 4KV Isolation COM / LAN / USB module. Signal isolation can block noise, reduce interference, and improve the transmission quality of the signal. This can prevent damage to expensive devices and the Panel PC, as well improving the user safety.
WMP-24F/22F/19F have acquired the latest Medical UL/EN 60601-1 4th edition certification, IEC-62133, Energy star 6.1 Compliance with FCC / CE / VCCI Class B; With better performance on energy saving and greatly improved safety on the electromagnetic wave, users are relieved from security concerns. The latest Medical UL/EN 60601-1 4th edition certification has higher requirements of EMC compliance. ESD levels are increased from 8KV air to 15KV air, and contact from 6KV to 8KV. Wincomm's Medical 60601-1 4th certification means their products can withstand higher amounts of environmental electromagnetic waves, resulting in more robust products and a substantial increase in user safety.
PIC: Medical UL/EN 60601-1 4th edition ; FCC / CE / VCCI Class B ; Energy star 6.1 Compliance

Table: WMP Skylake Platform Series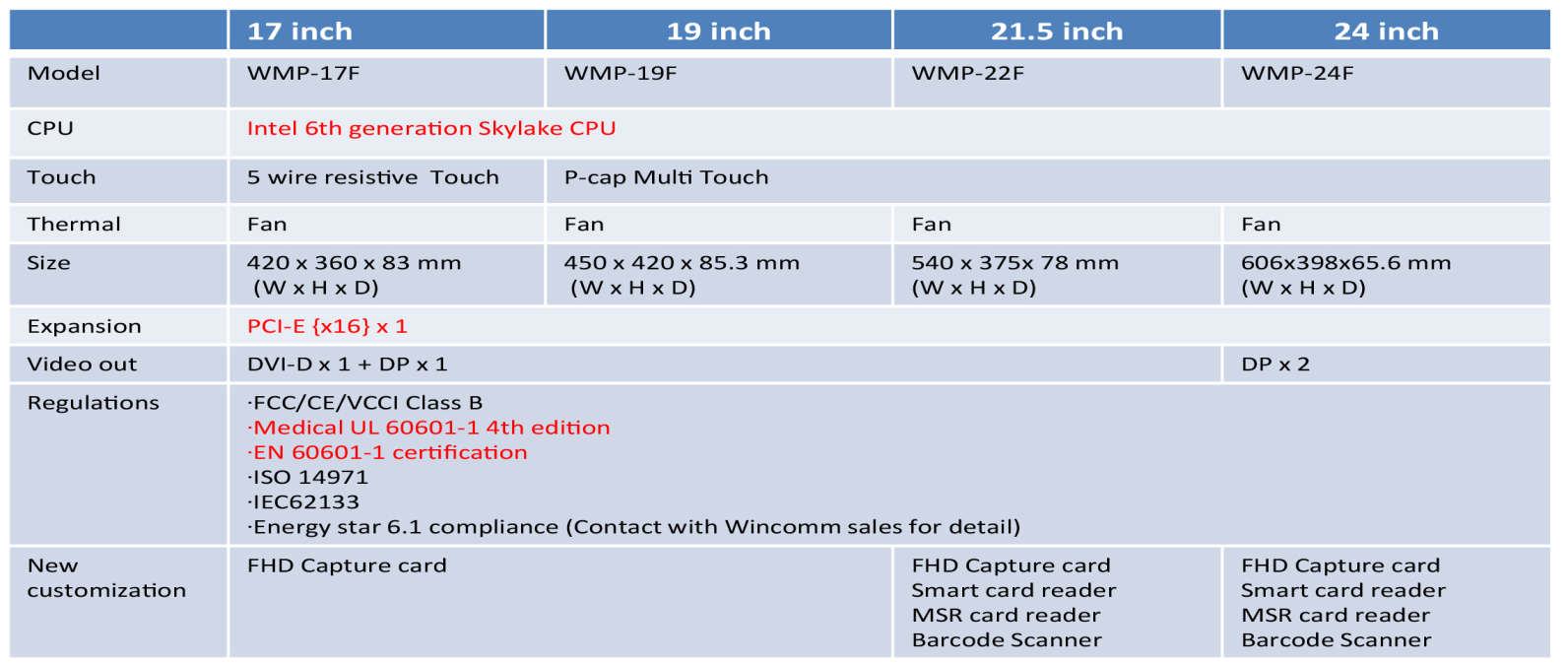 Everything, from the motherboard, BIOS, driver to the mechanical design was designed by Wincomm, so special customer requirements can be catered to and a steady supply provided over the long-term. The WMP-24F/22F/19F are now available for sale. If you have any product or customization requirements, please contact Wincomm sales (mail: sales_support@wincomm.com.tw). For more product information, please visit the Wincomm website at https://www.wincomm.com.tw/