Wincomm Medical Grade Panel PC Quality Management System Achieves ISO 13485 Certification
2012-08-31
ISO 13485 is an international quality system standard for the manufacturer of medical devices, and is used to certify that the manufacturer meets regulatory requirements on quality management. Wincomm states that quality management and design philosophy are both essential to any product. Quality control is aggressively carried out at Wincomm and ISO 13485 certification is proof that Wincomm has taken product quality to a new level.
Medical devices come in many different categories, from simple bandages to sophisticated medical imaging and minimally invasive surgery instruments. All preventive, tracking, diagnostic and treatment devices may be certified under ISO 13485. ISO 13485 is a set of international quality management system requirements specific to the medical device industry that explicitly defines the standards that manufacturers must meet in their quality management system. Having met this standard, Wincomm customers can now place more faith and trust in the design, R&D, manufacture, installation, sale and service of Wincomm products.
Wincomm ISO 13485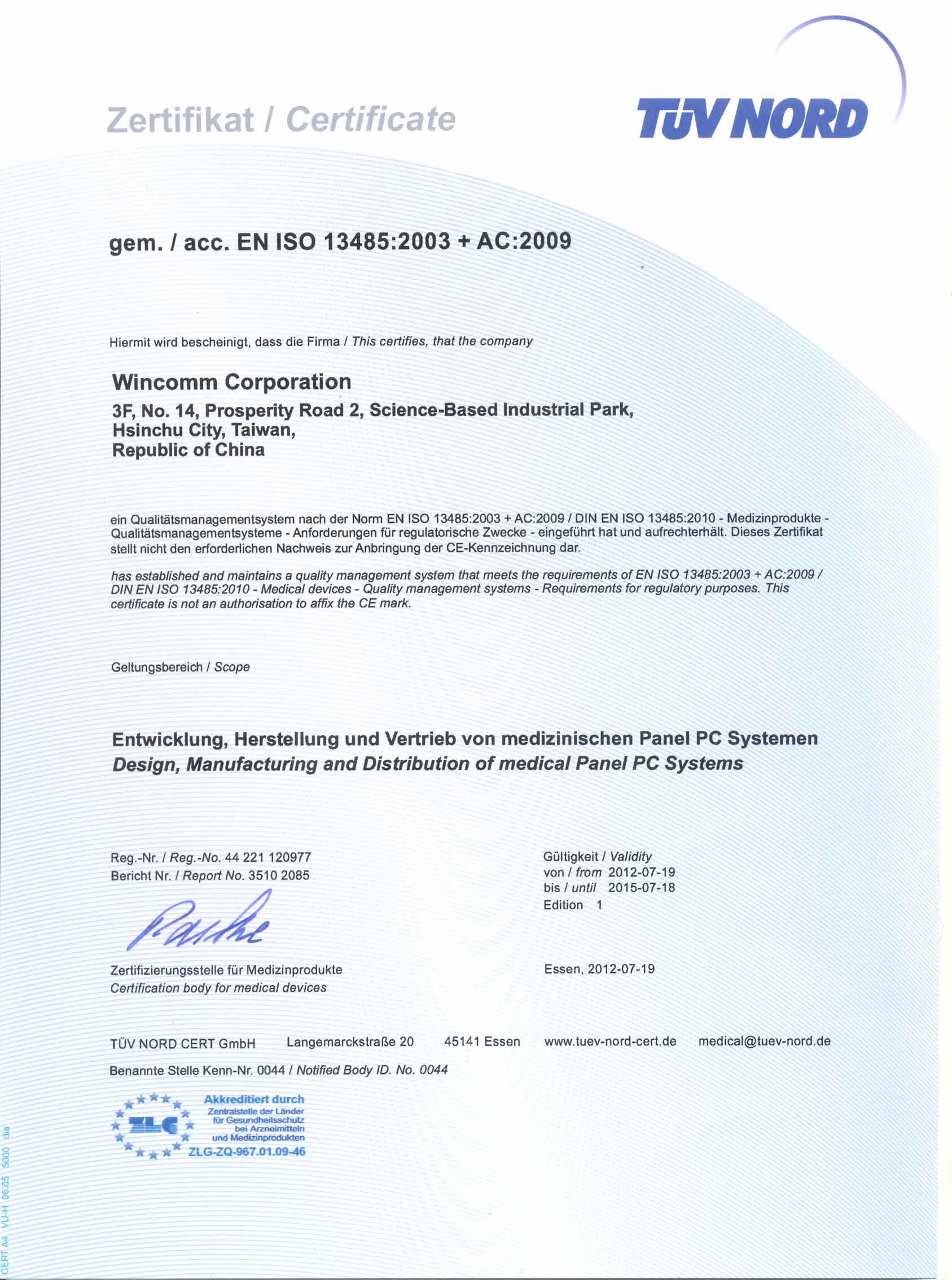 ISO 13485 has been adopted by the European Union as its basis for managing medical devices since its creation. Product safety management in the international community is also generally based on an organization's quality management system and product safety certification. For this reason, the EU combined CE with ISO 13485 for its medical device industry management model. As Wincomm has also achieved CE certification, the double-guarantee on product quality & safety has proven popular in the European market.
CE certification

Wincomm WMP medical grade panel PC products are now shipping! The WMP series is available in 17", 19" and 21.5" and the CPU uses Intel Core i3/i5/i7 processors for even more performance and improved stability. If you have any product or customization requirements, please contact Wincomm sales at mail: sales_support@wincomm.com.tw. For more product information, please visit the Wincomm website at http://www.wincomm.com.tw/