Wincomm Introduces 24 inch Multi Touch Medical Panel PC
2014-07-08
The original design development combines new technology ex. High-end image processing, Full flat multi touch, Compact mechanical design, Medical 60601-1 3rd edition etc…
In hospital, medical image and perfect graphic performance are the key for securing this seamless surgery. Wincomm announces 24 inch high performance multi touch medical grade panel pc with Intel 4th generation CPU Haswell embedded processors, graphic performance increasing several times. The new processors feature 200 MHz higher operating frequencies. New embedded Haswell processors have 2 CPU cores and 3 MB of shared L3 cache. They support Hyper-Threading technology and can execute 4 threads at once. The processors integrate HD 4600 graphics, clocked at 400 MHz. Another integrated component is a dual-channel memory controller, that supports low power DDR3L memory with data rates up to 1600 MHz..
In order to meet the needs of the operating room video transmission, WMP-248/249 I/O design for Video-in x1 & DP Output x 2, in addition to receiving surgery room video transmission, turn them into digital signals can be stored and edited, and connection dual-screen to help medical interpreting medical images.
According to nurse habit of using, WMP-248/249 designs in LED reading light. Let the medical staff in dimly lit places still can read medical records.
Picture: LED Reading Light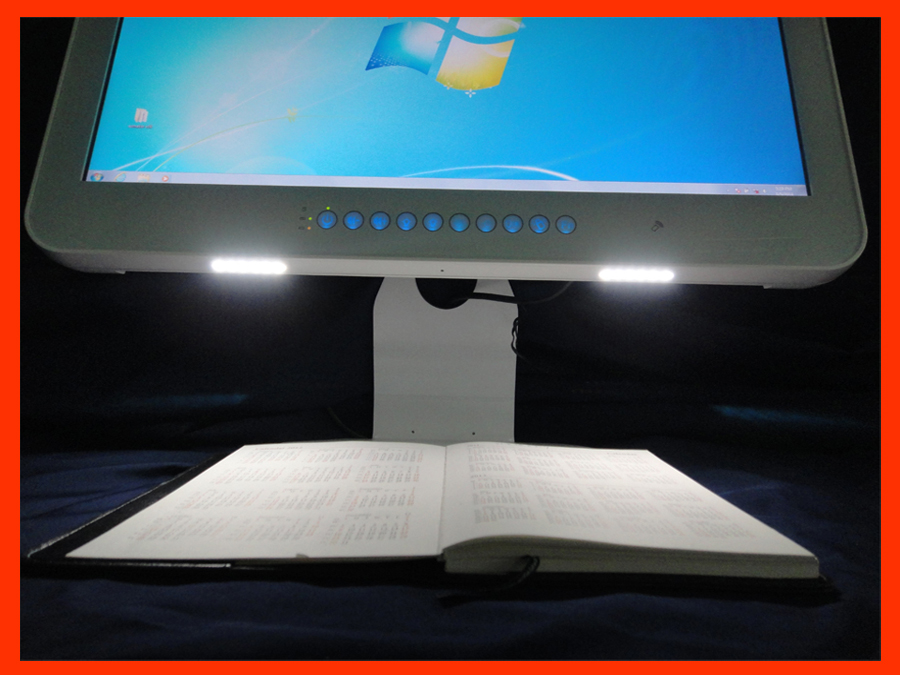 WMP-248/249 addition to the installation DVD, the traditional DVD opening mechanism design are designed to do the hard shell, now, Wincomm having new breakthroughs. DVD slot opening specially selected soft material to design mechanism. First one to avoid long-term use material worn grooves expand, lose water IPX1 waterproof effect. Second the material resistance to alcohol, nurse will not cause damage to the machine.
Picture: Slim design and special material design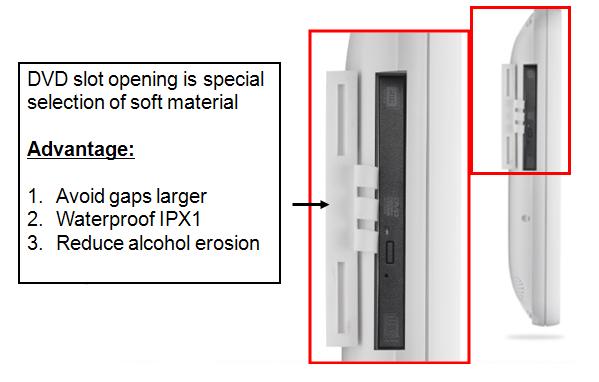 Wincomm indicates the design trends of medical computer must be closer user, so Wincomm design multi-touch (supports 10 points) to increase the sensitivity of the interface. Specifically nurses with medical gloves can still deft operation touch screen.
Picture: Nurses with medical gloves can still deft operation touch screen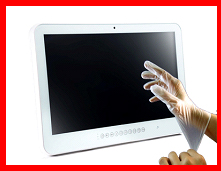 For the medical environment, Wincomm allows for the option of Isolation LAN、COM and USB ports. The main function is divided into two parts, signal isolation and high voltage insulation. Signal isolation can block noise and improve the transmission quality of the signal. With high-voltage insulation, because the Panel PC is often used in conjunction with medical instruments, the isolation ensures that the instruments and the panel PC will not interfere with each other. Signal and voltage feedback loops are also eliminated, assuring no interference between the Panel PC and medical equipments, and that patient safety is not compromised due to high voltage issues.
Key Feature:

●Intel 4th generation Embedded Haswell Core i7/i5/i3 processors
●Projective capacitive multi-touch (10 fingers)
●Fanless operatig with reliable thermal design (WMP-248 is smart fan)
●Seamless on front and nsuper slim 65.6mm depth only
●Easy wipe surfaces with no internal corners
●Medical 60601-1 3rd edition certification
●Anti-bacteria (MRSA) plastic housing
●DVI-D vedio input for direct digital display
●Friendly design of LED reading light bar
●Optional for 4KV LAN/COM/USB isolation card
Picture: WMP P-cap Series 19~24 inch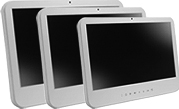 Table: WMP P-cap Series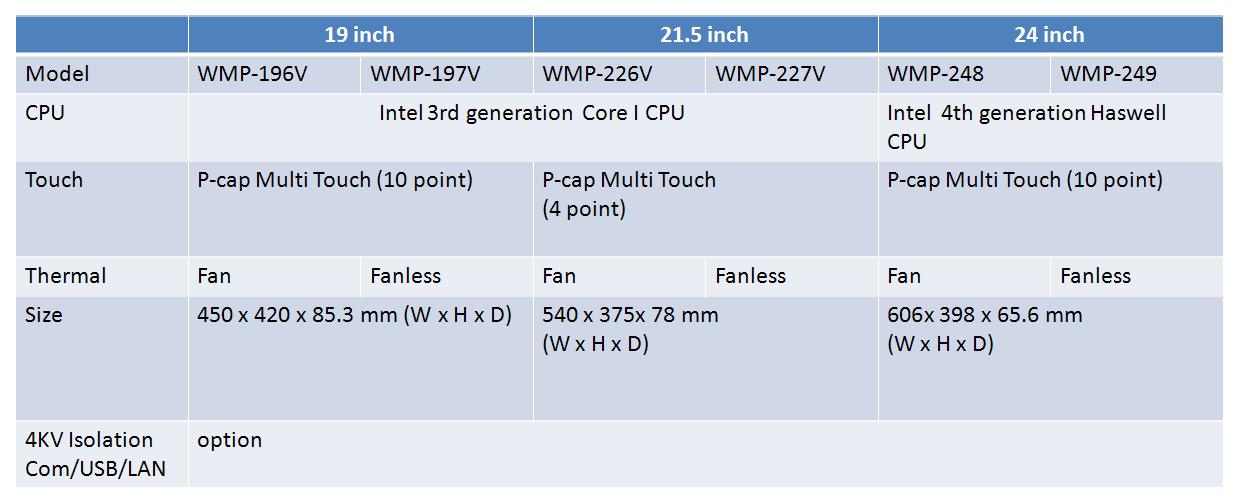 Everything, from the Mainboard, BIOS, Driver to the mechanical design was designed by Wincomm, so special customer requirements can be catered to and a steady supply provided over the long-term. The WMP-248/249 and P-cap series (19~24 inch)are now available for sale . If you have any product or customization requirements, please contact Wincomm sales (mail: sales_support@wincomm.com.tw). For more product information, please visit the Wincomm website at http://www.wincomm.com.tw/