Wincomm's New WMS-42 PLUS3 Ultra-Thin Touch LCD Digital Signage Offers Reliable Quality and Supply
2012-02-29
Suitable for all kinds of project installations: Backed by long-term manufacturing source and parts supply
Wincomm has extensive experience in industrial products and has been developing digital sign products for many years. A stable relationship with suppliers combined with Wincomm's high quality products and dependable after-sales service ensures that system vendors that install digital signage will continue to enjoy reliable product support after extended use.
Wincomm is familiar with the environments digital signage are installed in, and has successfully incorporated the following features into the product design to meet the needs of system vendors:
1. Thinner and lighter minimalist design with narrow bezel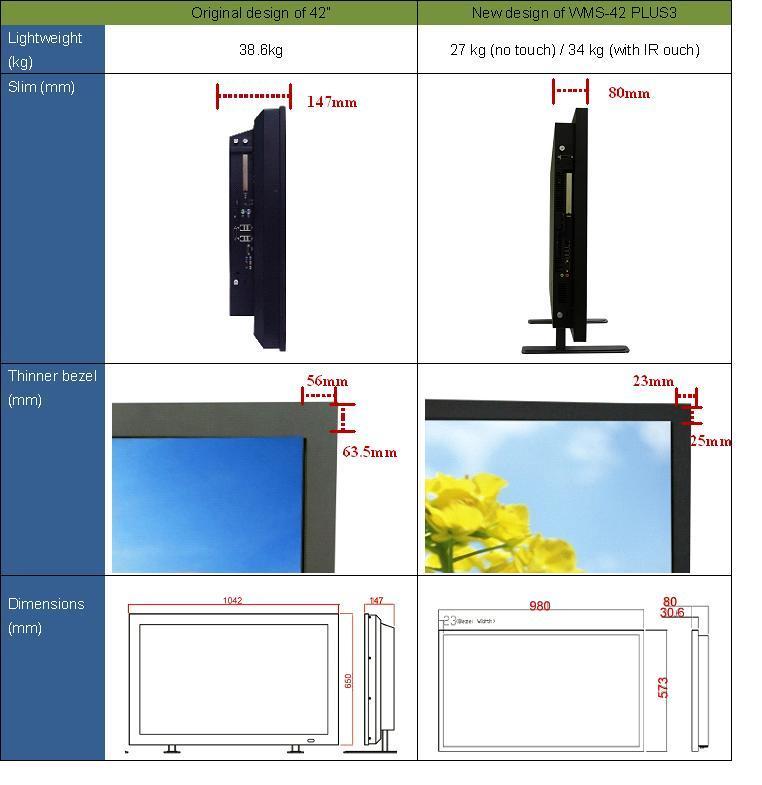 2. Concealed I/O ports to prevent potential vandalism in public applications.
Digital signage are often placed in public spaces such as hotel lobbies, airports and shopping centers that experience a high volume of pedestrian traffic. Special I/O covers are available to protect the WMS-42 PLUS3 against vandalism and extend service life.
3. Daisy Chaining and Internal Speakers to Reduce Installation Cost
WMS-42 PLUS3 supports Daisy Chaining and can be connected to external displays so the customer does not need to purchase additional systems. As an additional saving, the WMS-42 PLUS3 also has internal speakers and the volume can be controlled via a convenient remote control.
4. Adaptable design reduces limitations on interior design
The IR receiver of the WMS-42 PLUS3 can be mounted externally to the interior fittings so there is no need to cut a separate hole. The unit can also be wall-mounted as well. The flexibility of installation means that changes to the original venue interior can be minimized.
5. All-aspect remote control makes turning power On or Off easy
Unlike other products on the market, the WMS-42 PLUS3 remote control not only controls power to the screen but also the system itself. The user can therefore turn the entire system On or Off without having to open up the wall panel or climbing up to the power switch.


The WMS-42 PLUS3, designed for use in a variety of user environments, is now available for purchase. For product purchase, please contact Wincomm sales at sales_support@wincomm.com.tw. For more product information, please visit the Wincomm website at http://www.wincomm.com.tw/