常見問題
Bettery Mode : Yellow
Bettery Low : Yellow blinking

Battery Charging/Discharging conditions of WEB-8899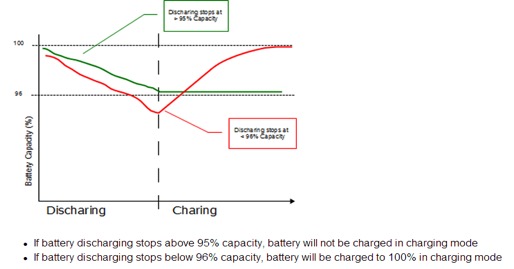 How to disable Battery before system shipment.
1. Shutdown system.
2. Remove AC power cord, then the battery LED will on.
3. Press volume up key 10 seconds, then all LED will turn on and turn off

4. Battery function already disable.
Remark: Plug in AC power cord, Press power button then battery function will auto enable..
Battery function
1. Capacity check: You can check Battery by Windows power option – Same as laptop.

2. Low Battery: In low battery mode ,System will go into S4 stage -Same as laptop.
(Percentage will base on OS setting).
3. Estimate discharge time table, Unit: Minutes.
| | | | |
| --- | --- | --- | --- |
| Items | WMP-176(88.8W) | WMP-196(89.3W) | WMP-226(79.3W) |
| Discharge time | 14.2 | 14.4 | 18.5 |
| | | | |
| --- | --- | --- | --- |
| Items | WMP-177(70.8W) | WMP-197(71.3W) | WMP-227(61.3W) |
| Discharge time | 21.5 | 21 | 24 |